I ended my previous post on this topic by expressing my hope that you wouldn't drown in the sea of links. If indeed you didn't and are ready for the second wave* of links, brace yourself for impact. Dive!! This time I will not restrict myself purely to the Hollywood era. Foreign stars should also get the attention they deserve. Stars such as Eva Henning, whom you will most likely not know, but who plays in one of my favourite Swedish films Girl With Hyacinths. Or Gina Lollobrigida, known for her role in Beat the Devil (1953) alongside Humphrey Bogart. Or Michèle Morgan who played in films from the 1930's such as Port of Shadows (1938), and The Fallen Idol (1948). Now 90 years of age is actress Honor Blackman, who all men know as Bond girl Pussy Galore from Goldfinger (1964). And so the list goes on and on. But most of these actors and actresses aren't very well known besides one or two major roles. It's much more interesting to seek out the ones with more impressive resumes, because who doesn't like their watchlist to be 50 films longer by the end of this post? Right?
* In case you hadn't noticed, that was my attempt at a witty reference to
Flash Gordon
(1980) with the now 86 year old 
Max von Sydow
as Emperor Ming
Since writing my previous post on this subject unfortunately some of them passed away. Lizabeth Scott and Christopher Lee are no longer with us, Anita Ekberg passed away earlier this year, and at age 104 (!) Luise Rainer passed away last december. Luckily there are others who are still among the living. But it is becoming increasingly more difficult to find those who played a prominent role in films made before 1962, which is often said to be the last year of Hollywood's Golden Age. I'm also finding that most of them are women, or are men who only started acting in the late 50's or 60's. People like Dick Van Dyke, Sean Connery, Mel Brooks or even Clint Eastwood. However I have managed to find two I could write about. And so I shall. But not yet.
Jeanne Moreau (1928) †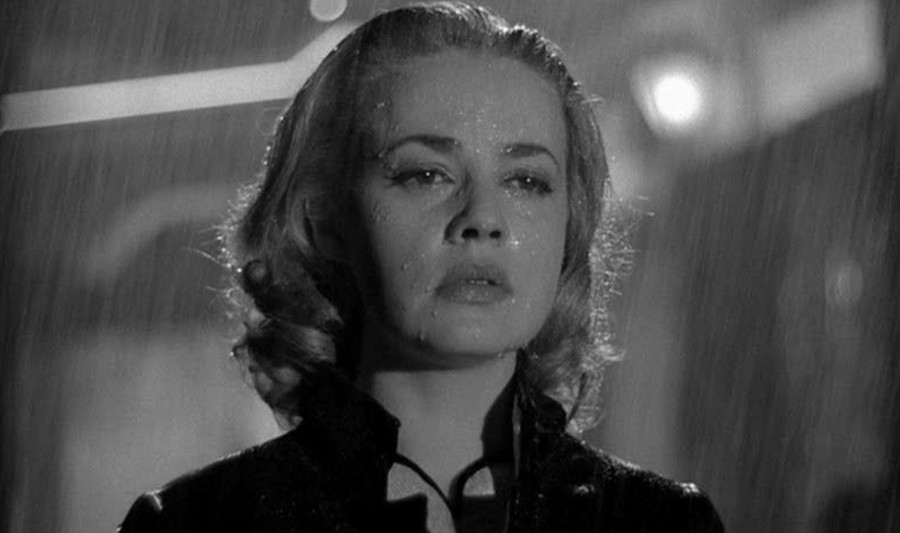 Jeanne Moreau's first big role, or film at least, was 1954's Touchez Pas Au Grisbi by Jacques Becker. After that it took a little while longer for her career to really take off. It wasn't until Louis Malle unknowingly started Nouvelle Vague (well, perhaps not really) with his 1958 film noir Lift to the Scaffold that Moreau got a big leading role in a successful film. This success was immediately followed by a string of films we consider absolute classics nowadays. In 1959 she had an itsybitsy role in François Truffaut's The 400 Blows. It may not be much, but at least she earned herself a place in one of his next films Jules et Jim (1962). In the same year she played in Orson Welles' weird film The Trial based on a book by Franz Kafka, followed by another Louis Malle film called Le Feu Follet in 1963 and Luis Buñuel's The Diary of a Chambermaid and John Frankenheimer's The Train in 1964.
Peggy Cummins (1925) †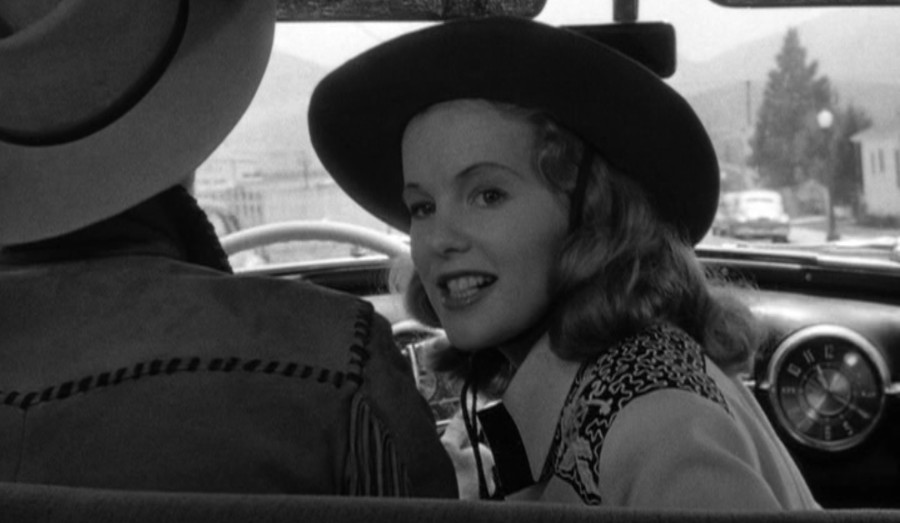 Peggy Cummins is probably not the most famous person mentioned in this post. In fact she's almost exclusively known for her role in 1950's Gun Crazy, also known as Deadly Is the Female, a superb and iconic film noir from poverty row. From where you say? Back in the studio system days you basically had a few major studios such as RKO Radio, MGM, Warner Bros, Universal, Paramount and Columbia. They held most of the market, making maybe as much as 100 films per year per studio. Can you imagine 100 or even 50 new Pixar films every year? Anyway, there were also a lot of smaller studio's, with smaller budgets, lesser stars, unknown directors etc. The difference in film quality usually was pretty apparent, but in the case of Gun Crazy, Detour (1945) and The Quiet Man (1952, with Maureen O'Hara – see previous post) they had their occasional major success. Now I said I wouldn't include any one shot wonders – pun intended – and I didn't. Another relatively well known Cummins film is Night of the Demon, a horror film from 1957. She only made about 25 films, which in those days was most definitely not a lot.
Machiko Kyô (1924) †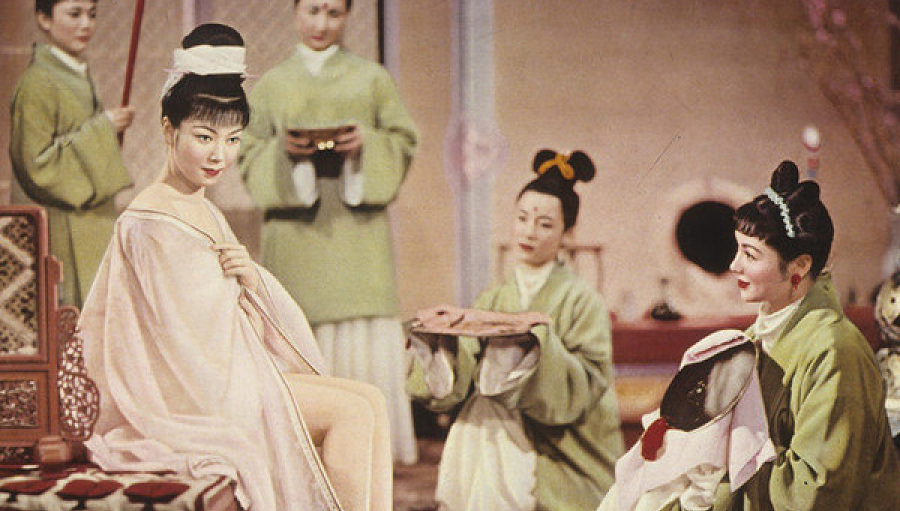 I already named her in my previous post, but I like Japanese cinema so I'll just use my writer's prerogative and write about her some more. After all, Machiko Kyô is – in my opinion at least – the best ever Japanese actress and when you see her resume I'm sure you will agree. Or not. In 1950 she landed a bigrole in Akira Kurosawa's Rashômon. This success was followed by roles in Kenji Mizoguchi's Ugetsu Monogatari in 1953, Yôkihi in 1955 and Street of Shame, his last film, in 1956. In one of Yasujirô Ozu's few films without Setsuko Hara, Floating Weeds (1959), Kyô played the female lead. Finally in 1966 she starred in Hiroshi Teshigahara's The Face of Another. Other films worth mentioning are Gate of Hell (1953), Odd Obsession (1959) and oddly enough a Hollywood production, The Teahouse of the August Moon (1956). Not the best of films, but a remarkable entry on a remarkable resume. In conclusion, that covers some very heavy drama, some action, comedy and even sci-fi as a genre.
Sidney Poitier (1927)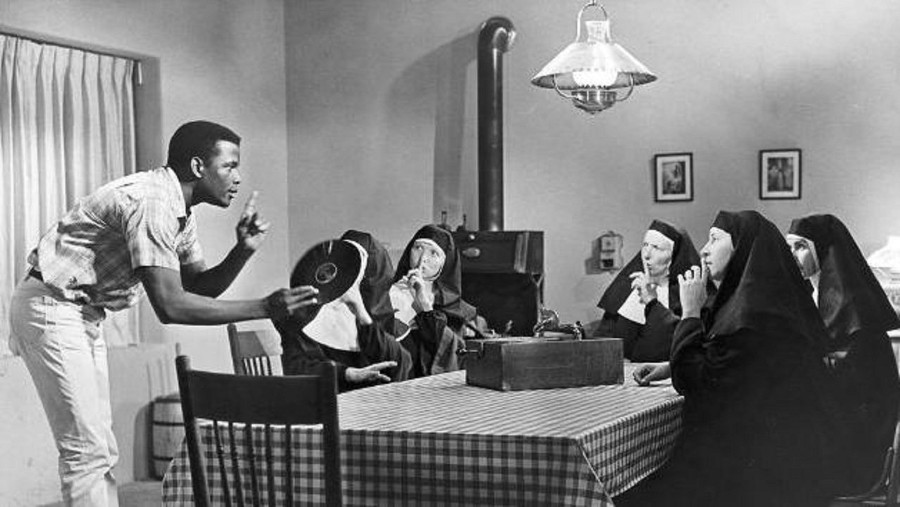 At last we have arrived at a male entry on the list. Sir Sidney Poitier is known for so many things I hardly know where to begin. He meant much for black people in film, although he initially had a difficult time getting started. The public didn't like him much because he couldn't sing. Black people were pretty much expected to be butlers, chauffeurs or singers in those days. Yuck… His first role worth noting is in 1950's film noir No Way Out. After that it takes a while to find anything worthwhile until Edge of the City in 1957. It looks like now the time was finally right for Poitier. He played in The Defiant Ones in 1958, Porgy and Bess in 1959 and the beautiful Lilies of the Field in 1963. In 1965, 15 years after first working with Richard Widmark, they teamed up again to make The Bedford Incident.
Danielle Darrieux (1917) †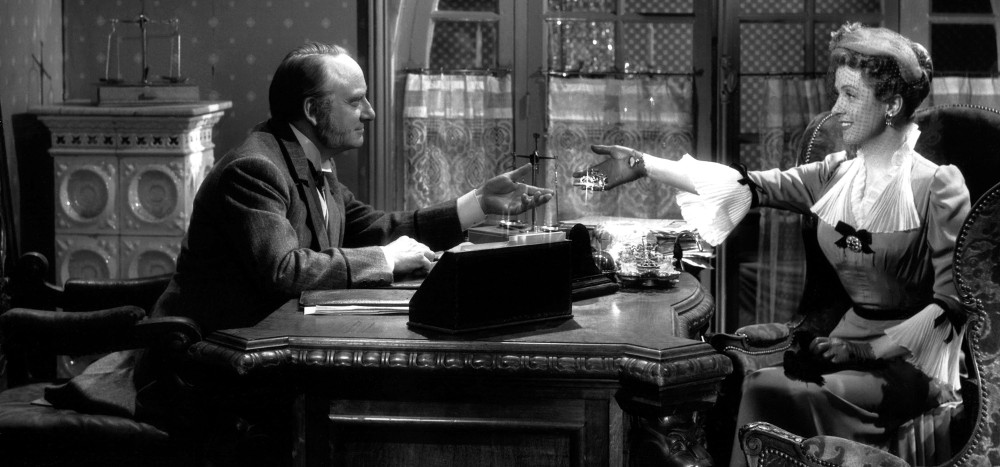 Danielle Darrieux is almost 100 years of age, making her the least young actress on this list. I must admit the name didn't strike me as familiar, but after looking at the films she played in I can't possibly leave her out. She's had two very successful years in 1952 and 1953, making Le Plaisir, 5 Fingers and Madame de…. But then we go all the way to 2007 to find another beautiful film. Like many other actresses around her age did she lent her voice to an animation film, Persepolis. Lauren Bacall did the same in Ernest et Célestine (2012), just as Jean Simmons did in Howl's Moving Castle (2004) and Tatsuya Nakadai did for the beautiful The Tale of Princess Kaguya (2013) and Giovanni's Island (2014). Speaking of Tatsuya Nakadai…
Tatsuya Nakadai (1932)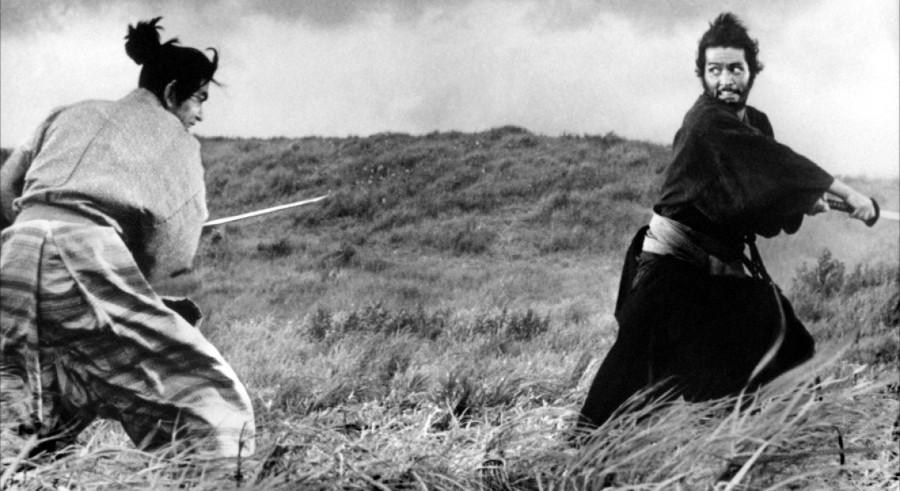 Like I said it wasn't easy finding men that could qualify. So I'm including Tatsuya Nakadai, only 83 years old, for the sake of being able to alternate at least a little between men and women. The string of masterpieces with his name on it more than make up for him being the only one on this list one born in the 1930's. Nakadai started his career in Seven Samurai (1954), although he was only playing one of the many extra's and he isn't even credited for it. His career didn't lift off until director Masaki Kobayashi chose him to play in his 9+ hour 3-part epic The Human Condition (1959, 1959 and 1961). In between he found the time to also do Mikio Naruse's When a Woman Ascends the Stairs in 1960 and Akira Kurosawa's Yojimbo in 1961 and its counterpart Sanjuro in 1962. So did he pause for a moment? Hell no. Sanjuro wasn't even his best film from 1962. That honour goes to one of Japan's best ever films Harakiri. He followed that up with High and Low in 1963, Kwaidan in 1964, The Sword of Doom and The Face of Another in 1966 and Samurai Rebellion in 1967. Whew! As if that wasn't enough he also played in Kagemusha (1980) and Ran (1985). It makes him Japan's greatest male actor together with the equally legendary Toshirô Mifune.
Vera Miles (1929)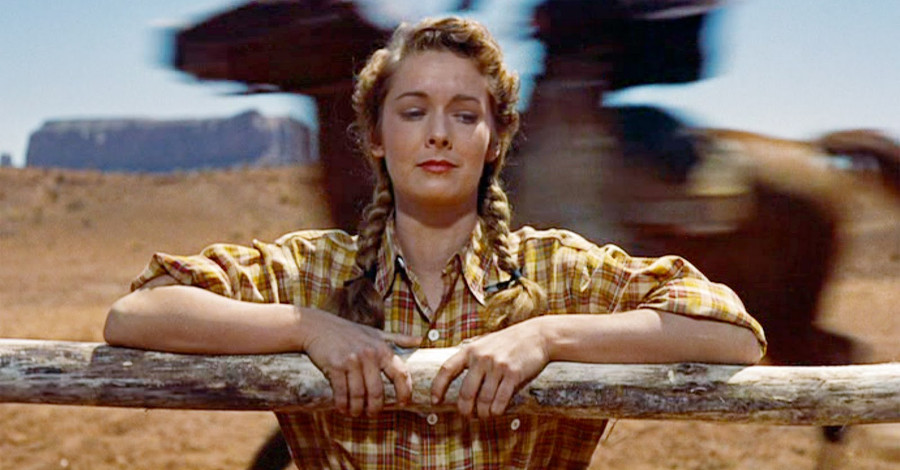 The plethora of Hitchcock blondes still alive made this choice a rather interesting one, but not a very difficult one at that. Eva Marie Saint would have been an option, as she starred in North By Northwest (1958) and won an Oscar for best supporting actress in Elia Kazan's 1954 epic On the Waterfront. Or Kim Novak, who starred in Vertigo (1958) and The Man with the Golden Arm (1955). Or Doris Day, leading lady in The Man Who Knew Too Much (1956). Or Shirley MacLaine, with The Trouble with Harry (1955) and of course Billy Wilder classic The Apartment (1960). I'm not even counting Tippi Hedren, because she only started acting in 1963 in The Birds and Marnie in 1964. I was also considering Nova Pilbeam, but unfortunately she passed away little over two weeks ago. She starred in early Hitchcocks such as The Man Who Knew Too Much (1936) and Young and Innocent (1937). I chose Vera Miles because of the many great films she has been in, compared to the other ones. The Hitchcock ones are The Wrong Man (1956) and of course Psycho (1960). But she's also made two of the best westerns ever made with The Searchers (1956) and The Man Who Shot Liberty Valance (1962). Both directed by legendary director John Ford, and both starring the king, president, emperor and sheriff of the western, John Wayne.
Setsuko Hara (1920) †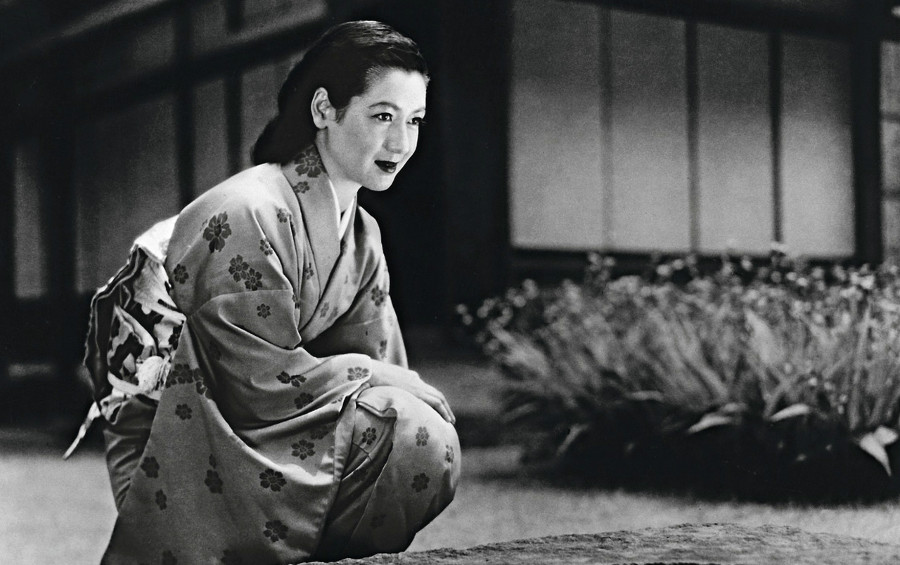 I already mentioned Setsuko Hara who is also still very much alive. What sort of defines her career is that she worked so much with director Yasujirô Ozu that it somewhat limited the type of films she made mostly to family dramas. Having said that, of course the many Ozu's are among the best Japanese films ever made. To name a few: Late Spring (1949), Early Summer (1951), Tokyo Story (1953), Tokyo Twilight (1957), Late Autumn (1960) and The End of Summer (1961). After Ozu's death in 1963, Setsuko Hara promptly left the film industry. She was immensely popular at the time – and still is – but that didn't stop her. On a completely different note, Satoshi Kon's 2001 anime gem Millennium Actress is partly based on Hara's life. This beautiful blog post on another website gives some very clear examples of that. Some non-Ozu films worth mentioning include Akira Kurosawa's The Idiot (1951) and Mikio Naruse's Meshi (1951) and Sound of the Mountain (1954).
In conclusion
So this is probably going to be it as far as this topic is concerned. I'm running out of people to write about in the way that I would like to. Nevertheless this should keep both you and me busy watching great films for quite some time. Remember that they called this era the Golden Age for a reason. The films from this time period are simply amazing, and many of them stood the test of time exceptionally well. For those that didn't, they still provide a beautiful window into the world as it was three quarters of a century ago. The Hollywood Golden Age is filled with class. Classy clothing, cars, locations and people too. The Japanese Golden Age of the 1950's and 1960's has become one of my personal favourite eras in cinema. After 1962 Nouvelle Vague took over in France, Ingmar Bergman entered the scene and Luis Buñuel kept on making great films. But for me personally the films predating all that will always be the most special ones.