A Tree Grows in Brooklyn
Every once in a while you come across a film that stays with you long after you've seen it. Months later you find yourself still thinking about it occasionally. For me Elia Kazan's A Tree Grows in Brooklyn is one of those films. Based on a book with the same title, this film takes place on the streets of Brooklyn New York in the early 1900's. The story told centers around Francie Nolan, a 12-or-so year old girl, and her coming of age. But because the story takes over two hours to be told there is more than enough time to flesh out everyone in her family: younger brother Neeley, mother Katie, father Johnny and aunt Sissy. Even supporting characters get nice bits of screen time, making the whole film feel very realistic. Characters do not just show up for a scene to speak a few lines to move the story along and then disappear, they actually take part in daily life and show up every now and then.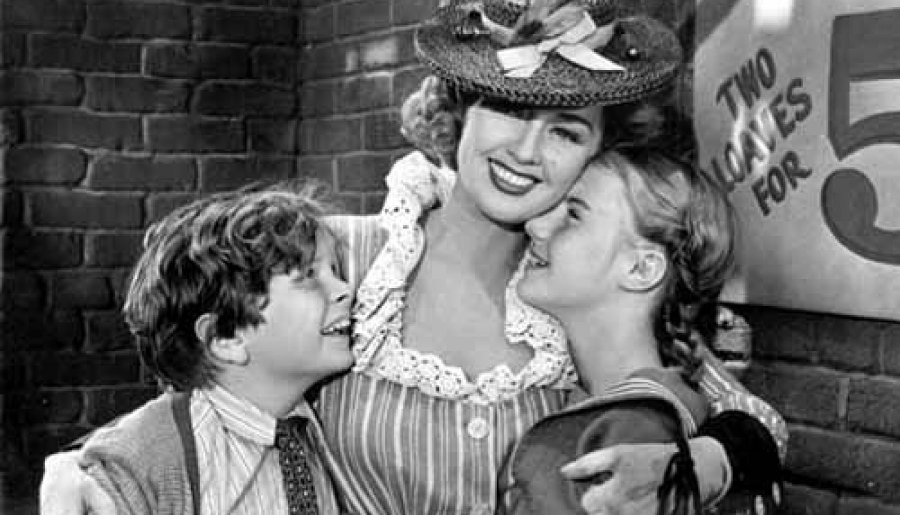 So what is the film about then? Francie comes from a very poor family. Her father Johnny is often 'sick' as she calls it. He can't hold a steady job, is drunk half the time and fills Francie's head with a lot of useless free-spirited hogwash. Despite all that Francie loves him very much, but it does result in conflicts with mother Katie, who is a much more practical person. Having fun is great, but a family also needs money to send the kids to school, buy them food, clothes and pay the rent. And school is important too, because if there is ever going to be a change in the family's poverty, it will be because Francie finishes school and gets a real job. These are some of the hardships of the Nolan family. Fortunately Francie is a very bright young girl who likes to learn, and one day while strolling through a rich neighbourhood with her father, she fantasises about entering the fancy school there. Johnny may be a drunk, but he too loves his daughter very much and maybe he can do something good for a change and get her enrolled.
Normally a film has a clear star, or an actor or actress who steals the show, but in this case I find it difficult to say who carries the film, or who stands out. What makes A Tree Grows in Brooklyn so special is that every single one of them stand out, elevating the quality of the film. Young Peggy Ann Garner is probably the best child actress I have ever seen, especially if you take the time in which this film was made into consideration. I thought she was even better than Bobby Henrey in Carol Reed's The Fallen Idol (1948). Despite her fantastic performance in this film it is strange that she never really 'made it big'. Joan Blondell is good as somewhat cheap but kindhearted aunt Sissy. Johnny Nolan is played by James Dunn. He gives a very compelling performance, maybe the best of them all. You know he's a drunk who is letting his family fall apart, but it's almost impossible to dislike him. In fact, just about everyone in A Tree Grows in Brooklyn is very likable. Least likable is probably mother Katie, played by Dorothy McGuire, who may come across as cold and bitter. But who wouldn't be if they had to do all the work in and around the house, raise two children and deal with a constantly drunk good for nothing husband.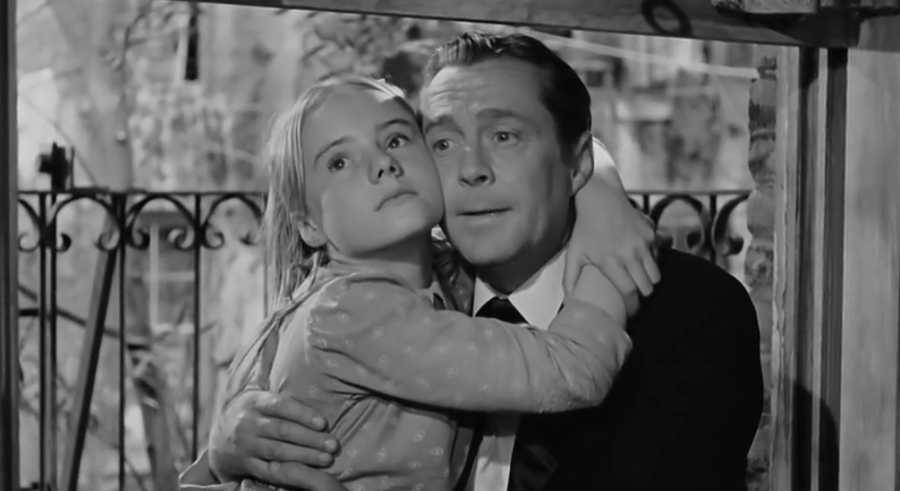 Staying with McGuire for a moment, 1945 was her year. In it she also starred in Robert Siodmak's noir-ish thriller The Spiral Staircase, and in the somewhat obscure – but quite touching and good – romantic drama The Enchanted Cottage. She played in some other pretty decent films after 1945, but never really got to be one of the biggest stars of the era. Aside from Blondell and McGuire no one from A Tree Grows in Brooklyn was or became a big name in Hollywood. I would have expected at least James Dunn to be more famous than he is. The scene in which he plays the song Annie Laurie has stayed with me ever since I first saw it. The only problem with A Tree Grows in Brooklyn I have is that as a European it is near impossible to find a decent copy anywhere. Thank you for that, region coding. Aside from that it receives the best score I can give: 5/5 – I can recommend this film to everyone, young or old.
Elia Kazan – genius and a**hole at the same time
A Tree Grows in Brooklyn is a beautiful drama and I couldn't believe my eyes when I saw that this was Kazan's debut film! He would later go on to make the much more famous A Streetcar Named Desire, but also On the Waterfront, East of Eden, A Face in the Crowd and many more fantastic films. That concludes all the good things I have to say about this man. His abilities to create beautiful films are obvious, but overshadowing his career – and life – is the talking he did for the HUAC. The HUAC was an organisation that was founded in the late 1930's to root out Nazi's within the Hollywood system. After the second world war they became known for doing the same thing with communists, and those who at one point or another sympathised with them. In the late 1940's they blacklisted the first batch of Hollywood employees, varying from actors to screenwriters and directors. This first 'batch' of 10 are known as The Hollywood Ten, but the list kept on growing and growing over the years. Many people's lives were utterly destroyed by this unfounded fear. Kazan's role in all of this? When asked by the HUAC to tell on his fellow colleagues he did so, saving his own hide but ruining the careers and lives of those he gave up.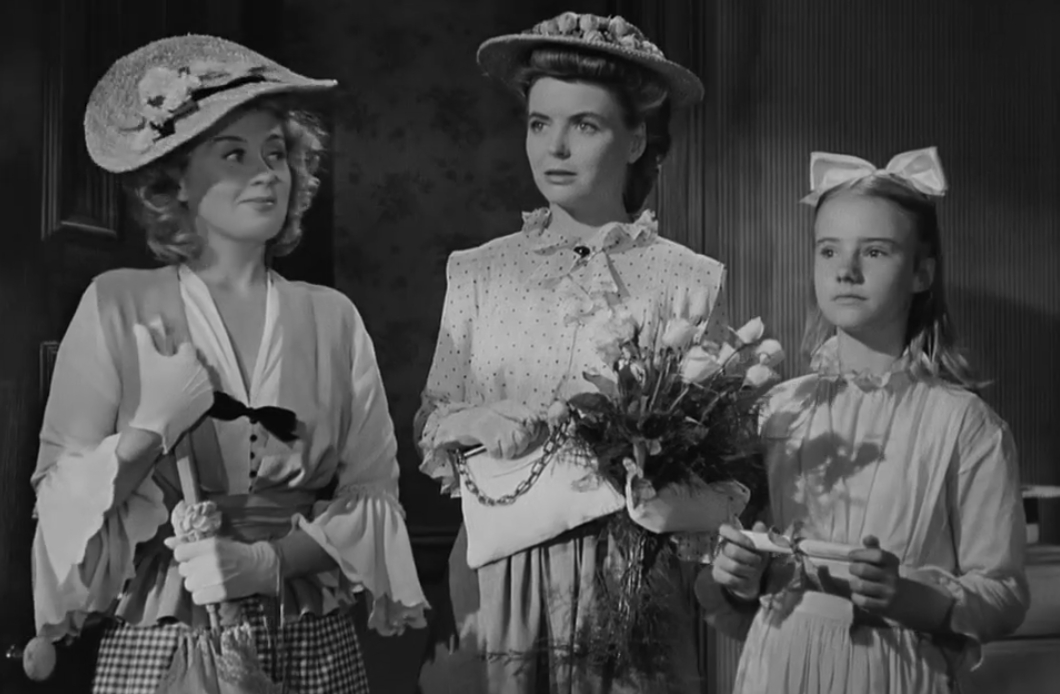 Of course looking back it is easy to come to this conclusion. We don't know how much pressure Kazan was under himself. Maybe it is too easy – and stupid – to throw in a Godwin, but I don't think we're this lenient towards a certain other group of people who told on their fellow human beings right around those days. You could argue that people like Kazan didn't actually kill anyone by talking, but I'd like to point out the story of John Garfield, who died in 1952, only 39 years old. It has been said that he was under constant stress from being labeled a communist or sympathiser at the very least. His career went down the drain, good acting opportunities dried up and his health deteriorated. Anyway, the films are there, and they are damn fine films. Should you leave them be because one person who worked on them didn't win the integrity prize? I don't think so, it wouldn't be fair to the other people who worked on it, but do take it into consideration when you're thinking of starting a fan club.