So who is this guy?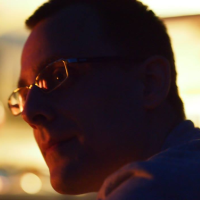 Bas van Stratum is a music crazed, film watching, ice cream loving, occasionally exercising, but mostly coding tech geek who works at ihomer. Software Developer by profession, passionate about agile/lean principles, clean proper coding and a firm – perhaps slightly naïve – believer of trust in people. I listen to lots and lots of music, always trying to find that new gem or enjoying an oldie. I also like watching a good film. SEO says I should place links to social media on this page, so here we go.
Film
Brought up mostly on modern day junk, it took a while to realise that there are huge amounts of amazing films out there. Currently making up for lost time, mostly by watching Films Noirs or other B&W oldies, early 70's Sci-Fi, animated films, drama's and loads of foreign language films. With a slight preference for Japanese, Scandinavian and French ones.
Avid lover of awkward kissing, getting shot without a bullet wound or losing blood, and falling off trains with just minor injuries and an unscathed suit.
Has a strong dislike towards region locking, Quentin Tarantino pulp, remakes of old classics and just about any sort of franchise.
If you manage to find me a film considered to be a classic, of which the/a remake is substantially better than the original, you win a prize. I'll use the eternity between now and the first answer to think one up.
Film is what I usually write about. I make it a point not to write about well known classics, but only about hidden gems, lost treasures and peculiar bits of film history that peek my interest. After all, isn't the discovery of something new far more exciting than sticking to what the masses deem worthwhile. I hope you get lost in the potpourri of oddities, films you've never heard of and little bits of trivia about them that are found on this site, only to leave with refreshing ideas of what to watch next. The things no IMDb or Netflix would ever recommend you'd watch. Also I don't write much about the things I didn't like. Out of the 5-star rating plug-in thingamajig I use, I'm really only using the last two stars. I love watching a good silent film or a pre-code talkie. I've hopelessly fallen for my femme fatale called film noir. I love mid-20th century Japanese cinema, (murder) mysteries, calm drama's, things that are different one way or another, and films that show things you wouldn't otherwise see.
Currently my favourite film is Jean de Florette, my favourite director is Kenji Mizoguchi and I usually enjoy Veronica Lake or James Stewart films. Other actors and actresses I like include Edward G. Robinson, Humphrey Bogart, Amy Adams, Jean Gabin, Olivia de Havilland, Tatsuya Nakadai, Barbara Stanwyck, Jean Simmons, Julianne Moore, Setsuko Hara, Joan Blondell and Juliette Binoche. Film noir is my favourite type of film. I love lists. According to them, 1962 is my year of choice, closely followed by 1954 and 1955. My biggest shame is not having seen The Godfather Apocalypse Now, but I can live with that.
Music
I grew up on Queen, passed my exams with the help of lots of Pink Floyd and now live my life on all sorts of music. Listening to a wide variety of artists and styles, ranging from Symphonic Metal to Frank Sinatra, from Sigur Ros' post-rock to the country folky hippieness of Joni Mitchell, Johnny Cash or more modern folk bands. From Celtic folk to chill-out Trip-Hop and from Smooth Jazz to prog rock.
Not a big fan of R&B, bling bling, *ance or Grunge. Other than that I'll listen to just about anything.
Misc
Has a Spidey Sense for Dutch grammar mistakes. English ones not so much.
There should be an official atheist holiday; Like towel day, talk like a pirate day or pancake day. Or April 21st, because absolutely nothing worth noting happened that day.
Glasses > Lenses, Cake > Pie, and Ninjas > Pirates
Work
So I told myself I wouldn't write about work. But then I did. Ugh…