Original title: The Beautiful Country
Rating: (4 / 5)
Year: 2004
Director: Hans Petter Moland
Duration: 137 min.
Genre: Drama
The Beautiful Country
The Beautiful Country tells the story of Binh, a Vietnamese boy with an American father. After the war his mother and father hooked up and he was born, but his father has long since disappeared. Binh is what you could call a bastard child – or bụi đời – because he was born to an American soldier and has since been abandoned. Having had a disappointing life so far Binh decides to search for his mother, who supposedly lives somewhere in Saigon. He quickly finds her, but also finds out he has a little (half) brother called Tam.
He starts to work for a rich family, but things quickly get out of hand due to a deadly accident at the mansion. Binh and Tam run away to find a better life, leaving their mother behind in Saigon. He has since learned his father's address in America, and he decides to look him up. He manages to get his hands on a boat ticket to America, but as so often happens the ship is packed and doesn't make it. They get picked by up the authorities and are put in a Malaysian labour camp where they meet Ling. She too was trying to get to America, but failed. Will Binh ever reach Sweetwater TX, where his father is supposed to live? And what about Ling and Tam?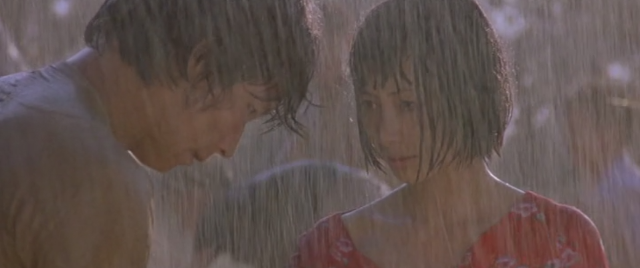 A little more about the film
What is interesting is that this film was made with a completely unknown non-professional actor playing the lead role. Maybe it was the inexperience, or maybe it was just the role he was supposed to play, but to me he was quite convincing as an out of place misfit everywhere he went. You can't help but feel sorry for the guy no matter what he does. It also helps make the film's last twenty or so minutes to be the best twenty minutes of the whole film.
Another thing I liked in particular about The Beautiful Country is the extreme difference in locations. The film starts off in the rice fields of rural Vietnam, but quickly moves to the city of Saigon and from there on we go to a labour camp, a cramped refugee/slave ship, a big city and the desert. Binh ends up hitch-hiking with war veterans and a bunch of Mexicans. All things you don't often see in films, but here it just works. I mean, just imagine an odd Vietnamese bloke who barely speaks English and a Mexican family packed together in a crappy van.
As a final advice I should warn you to keep your box of tissues ready, as on more than one occasion you might be required to use them. However The Beautiful Country is in no way a girl-only tear jerker. It does make you wonder though to which country the film's title refers, if any.