Original title: A Letter to Three Wives
Rating: (4 / 5)
Year: 1949
Director: Joseph L. Mankiewicz
Duration: 103 min.
Genres: Drama, Romance
A Letter to Three Wives
Imagine this. You and two of your best friends set out on a day cruise with a group of kids. Just as you are about to board, a man hands you a letter. A letter which turns out to be from that one person you both admire and despise. This person tells you, and your two friends, that she has stolen one of your husbands and has skipped town with him, but you won't know which one it is until you get back home. At night, he won't come back home, because he will be with her. A Letter to Three Wives explores this concept with a calm, realistic approach. You're gutted, but have to board, because going home won't help you and you have the kids to take care of. You might as well try to enjoy the day and hope it is all just a cruel joke.
At least you know your husband isn't the one who ran off with that.. that.. Or did he? Why was he wearing that fancy suit – the one he never wears – when he left the house this morning? Or why did your husband tell you he might or might not make it that night, to the first dinner dance of the season? Or you sort of kind of know your marriage hasn't been doing too well lately, so could he be the one? All of them have a reason to be worried, but social convention dictates not to show your insecurity or talk much about it. But how can you not talk about something like this? A day sure lasts long with something like that hanging over your head..
There isn't much visual spectacle or action going on in this film. But that doesn't mean that it's boring or that it drags on. On the contrary, from the first second the film starts, it sucks you in and it doesn't let go until the credits roll. It has to do with the strange way in which the story is told. It starts off by the fourth woman, Addy Ross, talking as a narrator about urban married life. Then some short scenes from earlier that day follow, introducing the three couples. In each case the man leaves, or they have an argument. After that the bomb is soon dropped when the letter is slowly read.
The story unfolds through a series of flashbacks that might help shed some light on the mystery. Or maybe not, you never can tell. The stories of two couples are just red herrings. Acting is really good with all six key players. Six, because we never really see Addy, we only hear the narratives. Key actors are: Jeanne Crain, Linda Darnell and Ann Sothern as the three wives, and an amazing Kirk Douglas, Paul Douglas (not related) and Jeffrey Lynn as husbands. Celeste Holm does get some well deserved credits for providing the voice of Addy Ross. For her great work, she got to play a big part in director Mankiewicz's 1950 smash hit All About Eve. Both All About Eve and A Letter to Three Wives netted him two Oscars, one for best director and one for best writing, making up his career total of four.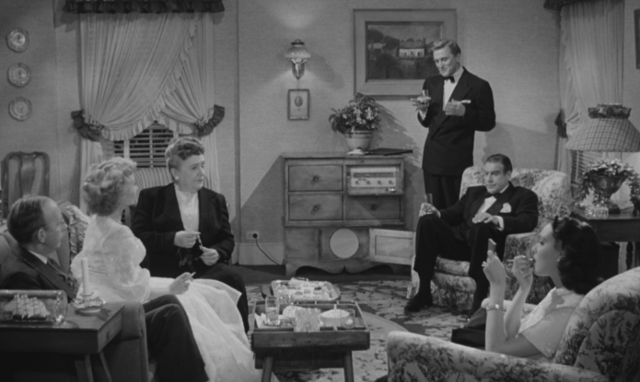 While looking at his IMDb page for this post, I didn't realise that over the years I had seen so many of his films. Because of that, I would like to take the opportunity and recommend some other ones as well. The first one very much worth watching is a ghost love story, The Ghost and Mrs Muir (1947). The second one – both of them starring Gene Tierney <3 – is Dragonwyck (1946). It's a bit of a gothic mystery thing. And from his first film to his last. He went out with a bang directing Sleuth (1972), a screwball stage play based thriller featuring an older Laurence Olivier (Rebecca).