Original title: White Heat
Rating: (4 / 5)
Year: 1949
Director: Raoul Walsh
Duration: 114 min.
Genres: Film Noir, Crime, Thriller, Drama
White Heat
James Cagney, one of Hollywood's most famous 'tough guys', stars as evil mommy's boy in this Film Noir thriller. One that is particularly violent for its time, even though it still adheres to the 'rules' of not showing too much of it. I'm not sure what the name of this film means. White Heat could refer to the opening scene in which a train robbery goes south. The bandits pull it off, but a steam exhaust pipe accident almost kills one of them. Maybe 'heat' refers to the police trying to catch them. Anyway, lots of shoot outs, chases, explosions and blackmail make for a highly enjoyable film.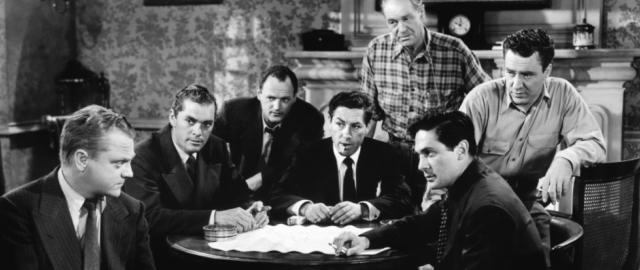 As mentioned, the film starts of with Cody and his gang robbing a train. The machinists are killed because one of them remembers Cody's name. One of the gangsters gets his face burned after a steam accident. Well there's some classic film noir karma for you right away. We soon find the gang in a hideout where they are taking care of the injured guy – who is now dieing – by packing his head in bandages.
We now get to see one of Cody's problems. He gets intense headaches that completely immobilise him for a while. He falls down and is taken to a separate room by his 'ma'. She seems like a nice old lady at first, but looks can be deceiving. She's proper bad ass herself. Her one weakness is her son, and Cody's quite the mommy's boy too. All in all it's not a very healthy relationship, but it seems to be good for Cody as she manages to calm him down and give his busted ego a little boost.
The rest of the film consists of a great plot, with many twists and some great scenes. The police keeps trying to catch Cody. They even get an undercover agent in his gang. We get murder attempts, some more successful than others. Cody's girl is shacking up with Big Ed, Cody's second in command. Betrayal, shootouts, a prison break, explosions, this film has it all. It's like watching a Quentin Tarantino film without Quentin Tarantino, without the pointless gore and without all the swearing.
Made it ma! Top of the world! – Cody Jarrett