#52FilmsByWomen
This month #52FilmsByWomen passes the halfway mark. In time and in numbers, although after six months I am past 26 films, giving me a little buffer in case I need it. The total film count is now at 30/52, already four more than being truly halfway. I still keep the list over here too, and if I were to count all shorts as separate films I'd already be at 39! But watching a bunch of shorts isn't really taking this whole thing seriously, so 30 it is. I also made myself a nice little todo-list with potential films to seek out, but it turns out I don't really need it so far as I've only seen two out of over forty.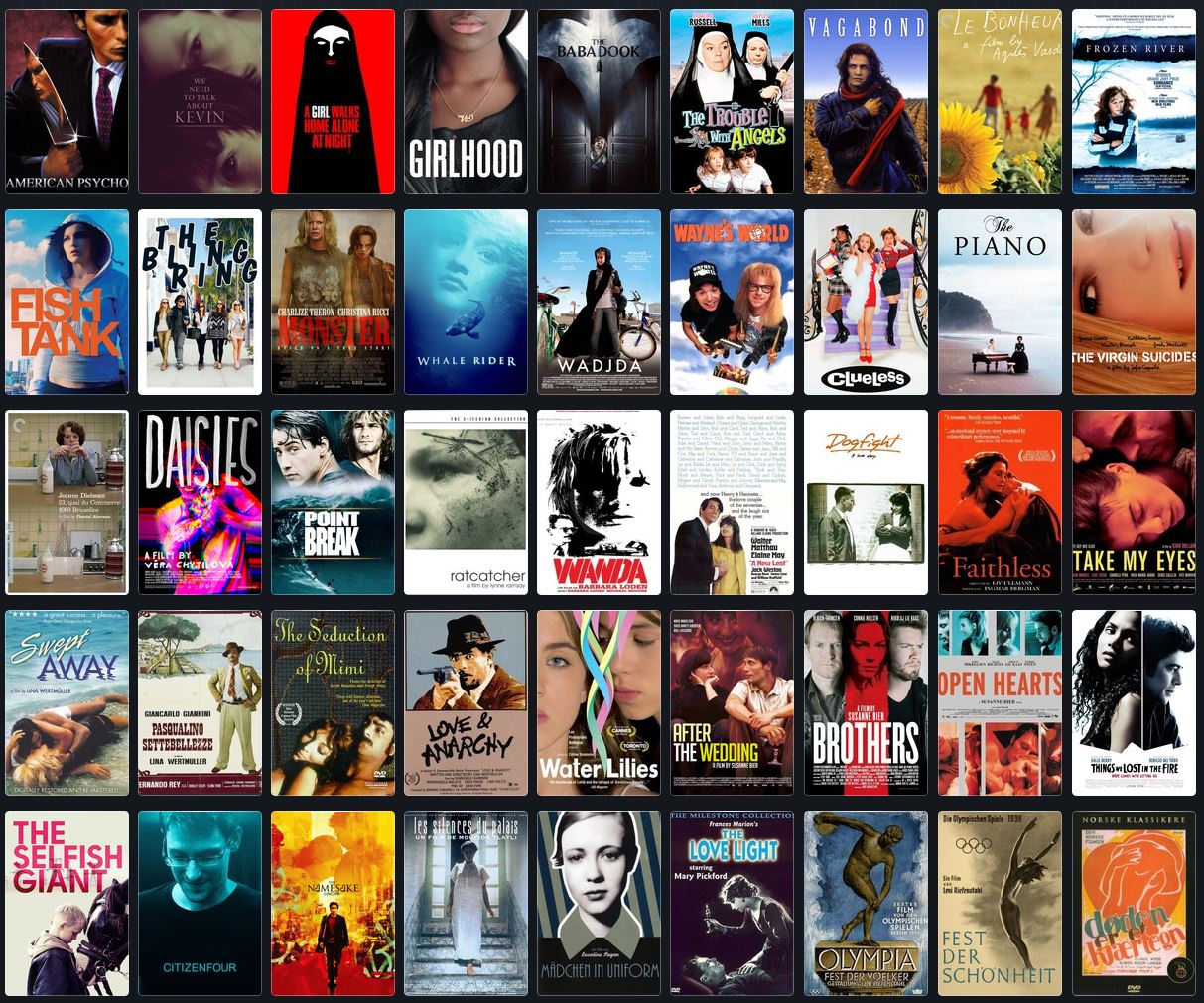 Prior posts
Watched
It turns out June was no month for Olympia. Maybe July will be. I do kind of want to see it as I heard it's pretty good. MUBI is showing Mikey and Nicky almost all month, so I'll probably catch that. It's with Peter Falk, so I don't see any reason not to. There's also this thing, but that doesn't really speak to me. Perhaps I'll be in the mood for this documentary or this one. Either way, I can't complain about a lack of choice.
Original title: August Rush
Year: 2007
Director: Kirsten Sheridan
Duration: 114 min.
Genres: Drama, Music
Bam! Just like that there's a new numero uno. I kind of watched this in May, but I didn't have the time to add it to that post. August Rush came a little out of nowhere, too. That is I've had the film for a while but it just never occurred to me that it was directed by a woman. Stupid me! I could've watched this beauty a long time ago. August Rush has everything that works for me. So much so that things that usually bother me didn't bother me at all. The biggest issue I imagine people could have with this film is credibility. Almost nothing that happens makes sense in a real world. Given that, if you enjoy music and feel good films, you won't care that it makes no sense. August Rush describes itself as a fairy tale. One of an orphan boy / musical prodigy who attempts to find his lost parents by "following the music". I guess that sounds a bit lame but the film has a wonderful soundtrack, good acting, beautiful shots and gorgeous lighting effects to make up for it. To be honest I never really found myself to be very invested in the story, but more in the general tone of the film and the way it made me feel. Walking away with watery eyes and a huge smile was more than I could have hoped for.
Original title: Mädchen in Uniform
Year: 1931
Director: Leontine Sagan
Duration: 88 min.
Genres: Drama, Romance
I think this is the pinnacle of #52FilmsByWomen. Not only is this film directed by a woman (Leontine Sagan), there are zero men in it and about a hundred women and girls. And on top of all that it is a fantastic film too! I didn't know a thing about it when I started it, and was I surprised. I still can't believe this film was made in 1931. It tells a story about a girl who is sent to a boarding school for girls. The school is run like a prison, with barely enough food, terrible teachers, an evil headmistress and no room for close friendships or love. But you can't turn off love. And with an environment in which there are only girls and women, love still finds its way. To be fair I do feel that there are some rough edges to this film. The acting is sometimes a little wooden and there is little of interest in terms of cinematography. But the story has no room for fancy shots or big stars, so I don't think it really matters. One thing that was a little bit of a shame is that the final moments of the film could be seen coming a mile away.
Original title: Despite the Falling Snow
Year: 2016
Director: Shamim Sarif
Duration: 93 min.
Genres: Drama, Romance, Mystery
This film needed subtitles. When the setting is cold war USSR, you do not speak the Queen's English! You speak Russian. Maybe this was all right in 1950, but this is 2016 and I like to think things can be done better than that. All the while I was thinking this could've been better had it been more like Sarah's Key. There are a lot of parallels between the two films. Part it set in the past during a war of sorts, part later in a more modern age. The images fly back and forth through time, in a few cases even fluently and seemingly without a cut. Those were some of the nice things about the film. I liked the atmosphere and the story that it tried to convey. However it fails in several ways, some more detrimental to the film watching experience than others. One of the biggest problems is the complete lack of chemistry between just about anyone on screen. They all seem to live their emotionless lives even though everything is trying to make me believe there is emotion – the actions of the actors, the music, the setting, but I'm not buying it. The only relationship I believed was the one between Lauren and Marina. But then that's a dissonant too. It doesn't fit in with the rest of the film at all, and after it gets some attention it is just left open. I can tell while I'm writing this right after watching the film, that it annoyed me a lot. I feel it could've been so much better, but so many bad decisions were made. It's such a shame, but I can only tell you to watch Sarah's Key instead.
Original title: Szatan z siódmej klasy
Year: 1960
Director: Maria Kaniewska
Duration: 105 min.
Genres: Adventure, Mystery
So basically this is a children's adventure film. From 1960, in black and white, from Poland. The story is one of an inquisitive smart boy, from 7th grade judging by the title of the film, who keeps outsmarting his teacher. But then somehow he ends up spending his summer holiday with the teacher and some other people, trying to solve the mystery of someone who keeps stealing doors from the big estate he's staying at. There's plenty of adventure, mystery, problem solving, a cute niece and a treasure that might be found somewhere. The film is good fun, but not meant for someone my age. However it is probably a lot of fun to have your children watch. Because of its nature there isn't anything fancy going on in terms of style, camerawork or acting. It's just all very children-film-like. Of course there is a valuable lesson to be learned at the end. Had I been 8-14 years old (or so) I would probably have liked this a lot more, but sadly I'm older so a 5.7 will have to do.
Original title: Neposlušni
Year: 2014
Director: Mina Djukic
Duration: 106 min.
Genres: Drama, Romance
This month MUBI decided to give us a Serbian film, The Disobedient. It's the feature film debut of Mina Djukic who also wrote the script. It took a while to get into the flow because it's quite a strange film. Almost immediately the fourth wall is broken by a narrator, kind of like in Bergman's The Passion of Anna, except that this narrator just shows up as a bystander to the story in a few scenes to say a few words. They're quite helpful too in trying to understand what the heck is going on. I think this is a somewhat fantasy-like story of a depressed 24 year old girl who encounters an old childhood friend. He went off to study abroad and she remained. It is pretty clear that they like each other, but they seem afraid to show it for fear of rejection or getting hurt. All this balancing takes place while the two of them are on a bicycling road trip through the area. I couldn't quite put my finger around it, but there was something strangely compelling about this film, even though it has its flaws.
Ze list!
Made it, Ma! Top of the list!
| | |
| --- | --- |
| short: At Land: | (7.7 / 10) |
| short: Du côté de la côte: | (6.2 / 10) |
| short: Le lion volatil (Together with Documenteur): | (6.2 / 10) |
| shorts: Lotte Reiniger Fairy Tales 1-5: | (5.9 / 10) |
| shorts: Lotte Reiniger Fairy Tales 6-10: | (6.1 / 10) |
| American Psycho: | (7.7 / 10) |
| August Rush: | (8.3 / 10) |
| Born in Flames: | (7.0 / 10) |
| Despite the Falling Snow: | (6.0 / 10) |
| Documenteur: | (6.8 / 10) |
| Indie Game: The Movie: | (7.2 / 10) |
| Longing for the Rain: | (6.0 / 10) |
| Mädchen in Uniform: | (8.2 / 10) |
| Manuela Jankovic's War: | (6.0 / 10) |
| Merrily We Go to Hell: | (5.8 / 10) |
| Outrage: | (6.9 / 10) |
| Summertime: | (7.4 / 10) |
| Terminal Island: | (6.6 / 10) |
| Testament: | (7.3 / 10) |
| The Bigamist: | (6.4 / 10) |
| The Devil from Seventh Grade: | (5.7 / 10) |
| The Disobedient: | (6.7 / 10) |
| The Dressmaker: | (7.4 / 10) |
| The Hurt Locker: | (7.8 / 10) |
| The Woman Condemned: | (5.1 / 10) |
| Three Cases of Murder (1st segment): | (7.2 / 10) |
| Thursday Till Sunday: | (5.9 / 10) |
| Triumph of the Will: | (5.6 / 10) |
| Wings: | (8.2 / 10) |
| Winter's Bone: | (6.8 / 10) |