Original title: We're No Angels
Rating: (4 / 5)
Year: 1955
Director: Michael Curtiz
Duration: 106 min.
Genres: Comedy, Crime
We're No Angels
Director Michael Curtiz (Casablanca, Mildred Pierce) once again teams up with Bogey, this time to make a Christmas comedy. It is fairly uncommon for Humphrey Bogart to appear in comedies, but just the year before he courted Audrey Hepburn in Sabrina, another wonderful comedy. It's a shame his roles are mostly film noir bad guys and film noir good guys, because the comedy genre certainly wasn't lost on him. We're No Angels isn't a total exception to his repertoire though because once again Bogart plays one of three bad guys who just escaped from the prison on Devil's Island. His companions are Peter Ustinov (Spartacus, Death on the Nile) and Aldo Ray (Nightfall), all big time crooks taking a small nap in a little port town still on the island. Really all that is left is for them to sneak on the ship that's in port and that is that, but if it were all that simple we wouldn't have ourselves a film now would we.
One can't leave the island wearing cheap prison clothes, so it is decided that one of the local convenience stores must be robbed first to get some better clothes and some dough. That's about when things stop going as planned. Somehow they end up repairing the roof of the store they wanted to rob. Not soon after that they are helping the store keeper (Leo G. Carroll) and his wife with their finances, and aiding their daughter Isabelle in her youthful but naive search for love. Then disaster strikes for the poor family. As it turns out uncle Andre (Basil Rathbone) is coming for a visit. He isn't a very likable sort of chap, but he's family and also happens to be the real owner of the store so what can you do. He doesn't come alone either. With him is cousin Paul, incidentally the man Isabelle loves with all her heart. I hope you're still sort of with me as it's all pretty confusing I can imagine. Add the shop owner's wife (Joan Bennett) and a pet viper called Adolphe to the mix and you have yourself some lovely chaos.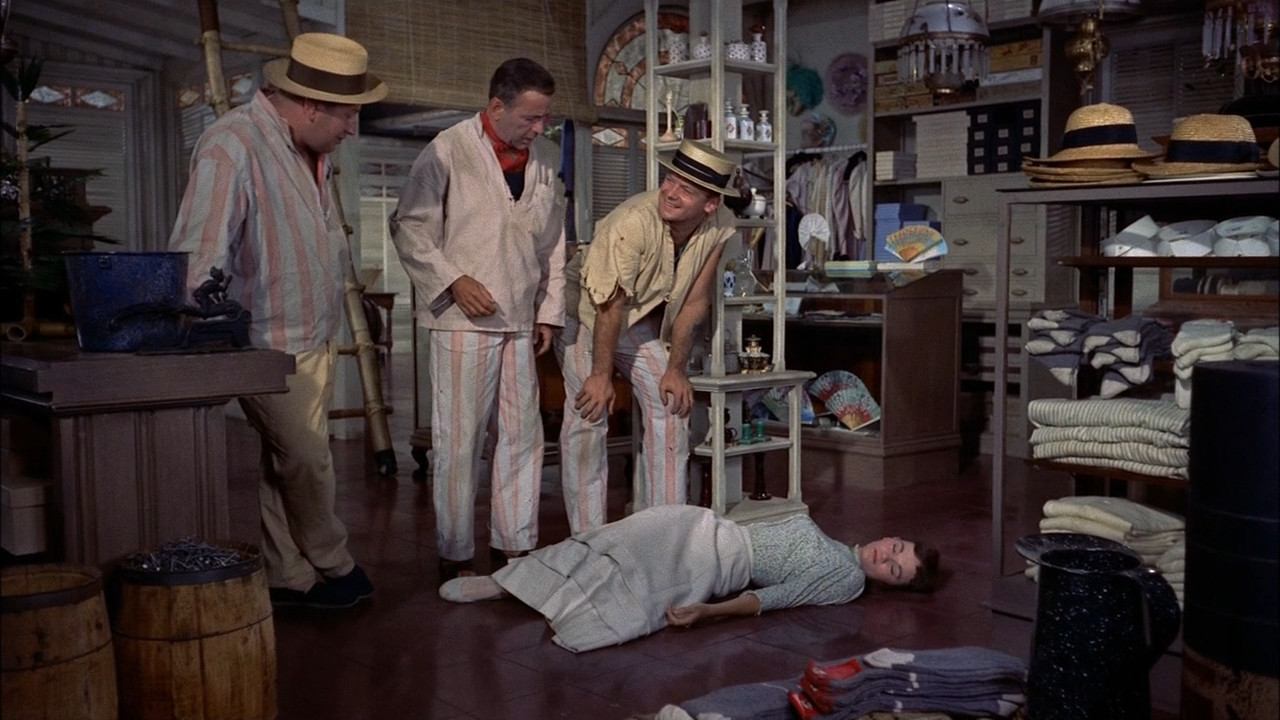 We're No Angels was originally a French play called La Cuisine Des Anges (The Kitchen of Angels). It has been adopted into an English play known as My Three Angels, before being converted to this film. One can clearly see play elements in the film. Plays converted to film often take place in a confined setting like a small (part of) town or just a house, like Arsenic and Old Lace. The humor in this film took me by surprise. It doesn't feel as American as one might expect. When I say that I mean it isn't over the top with a lot of loud talking and laughing. It's actually rather intimate and witty, and I really liked it that way. It didn't stop me from laughing out load a lot myself, and that's something I don't often do. If you're looking for a nice and fun Christmas film for this year and you are tired of re-watching Home Alone and Die Hard, why not give We're No Angels a try?