Original title: Arsenic and Old Lace
Rating: (4 / 5)
Year: 1944
Director: Frank Capra
Duration: 118 min.
Genre: Comedy
Arsenic and Old Lace
The most absurd, over the top, idiotic, maniacal screwball comedy you will ever see. That is probably the best way to describe this comedy classic from 1944. Arsenic and old Lace (trailer here) holds up really well against modern audiences and that's not something you can say about every comedy. It's hyperspeed pace and completely crazy script had me laughing out loud on several occasions. Cary Grant, one of Hollywood's greatest male stars, shines as a drama critic who just got married. His acting is completely over the top, so it fits in just fine with the script and the rest of the players.
Those other players include Priscilla Lane as Grant's new wife, and Josephine Hull and Jean Adair as the sweet old ladies who are his aunts. John Alexander plays the part of an insane relative who thinks he is president Theodore Roosevelt. Nice to know perhaps is that in 1944 Franklin D. Roosevelt was president. Finally Raymond Massey plays Grant's criminal brother and Peter Lorre is his 'doctor'. They all play their part quite well, but to me Grant and Alexander are stealing the show. The only fault I found this film to have is that it is a wee bit on the long side. Almost two hours of madness can be tiring. At least it's the good kind of crazy though.
Arsenic and Old Lace is based on a stage play (you can tell), and only takes place in and around a big house in Brooklyn. It's an old house where Grant's two aunts live together with president Theodore Roosevelt. The aunts are two of the sweetest old ladies you have ever seen, albeit a little homicidal. Their latest victim is put away under the window seat, because it just isn't nice to have him around when the neighbour drops by for a visit. Luckily the president is down in the basement Panama to dig a grave the Panama Canal. Every now and then someone is killed by the old ladies struck with yellow fever, and has to be buried down there.
Grant finds out about this, and seems to be moderately aware of the severity of the situation. Obviously the best course of action in such a case is to send your new wife back home to her parents to get some sleep, and get the president admitted to Happydale. Yes, it must be! Too bad his Boris Karloff lookalike brother and doctor Einstein arrive too, together with yet another dead body. Quite the inconvenience, seeing as there already is another body lying around. So between them, a cab driver, a doctor, and some police officers, total chaos and madness ensues.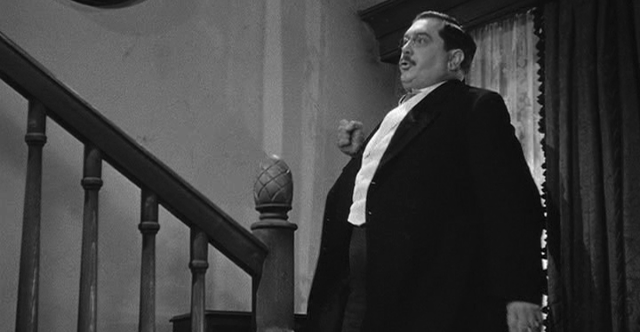 CHAAAAAAAAAAAAAAAAARRRRRRGGGGGEEEE!!!!