Original title: Dementia
Rating: (3.5 / 5)
Year: 1955
Director: 'John Parker'
Duration: 56 min.
Genres: Horror, Mystery, Film Noir
Dementia, a.k.a. Daughter of Horror
In my quests to find little obscure gems and films that are just a bit different from all the others, I recently came across Dementia. It is only 56 minutes in length but it more than makes up for that in its cinematography, photography and most importantly its music and 'story'. If you watch Dementia you will find that there is not a single word of spoken dialog in the whole film, only some murmuring, screams, laughter and so on. It makes it a bit of a silent film, but not quite. There is indeed no dialog, but there are also no intertitles and there is some ambient noise every now and then. If you watch its re-release Daughter of Horror, there will be spoken text by ways of a narrator. I highly recommend you try to find a copy of Dementia without that, because after watching it I can't imagine it being much good with a voice over.
BLOOD on her hands…DOOM in her eyes…
Another remarkable thing about Dementia is that there doesn't seem to be a director, or at least no credit is given. But from the opening credits you get the impression that the director might be a John Parker. Who? Right. Not much, if anything at all, can be found about this man so some people's best guess is that one of the actors is actually also the director. The most likely candidate for that is Bruno VeSota, who stated he at least co-directed with Parker. It's not entirely unlikely either because he also directed another film noir and some (very) minor Sci-Fi classics around that time. I mean, don't we all know and love The Brain Eaters, or Invasion of the Star Creatures? No? Hmm… all right then, maybe not. But whether VeSota directed Dementia or not, it is of a completely different quality standard than those (I assume).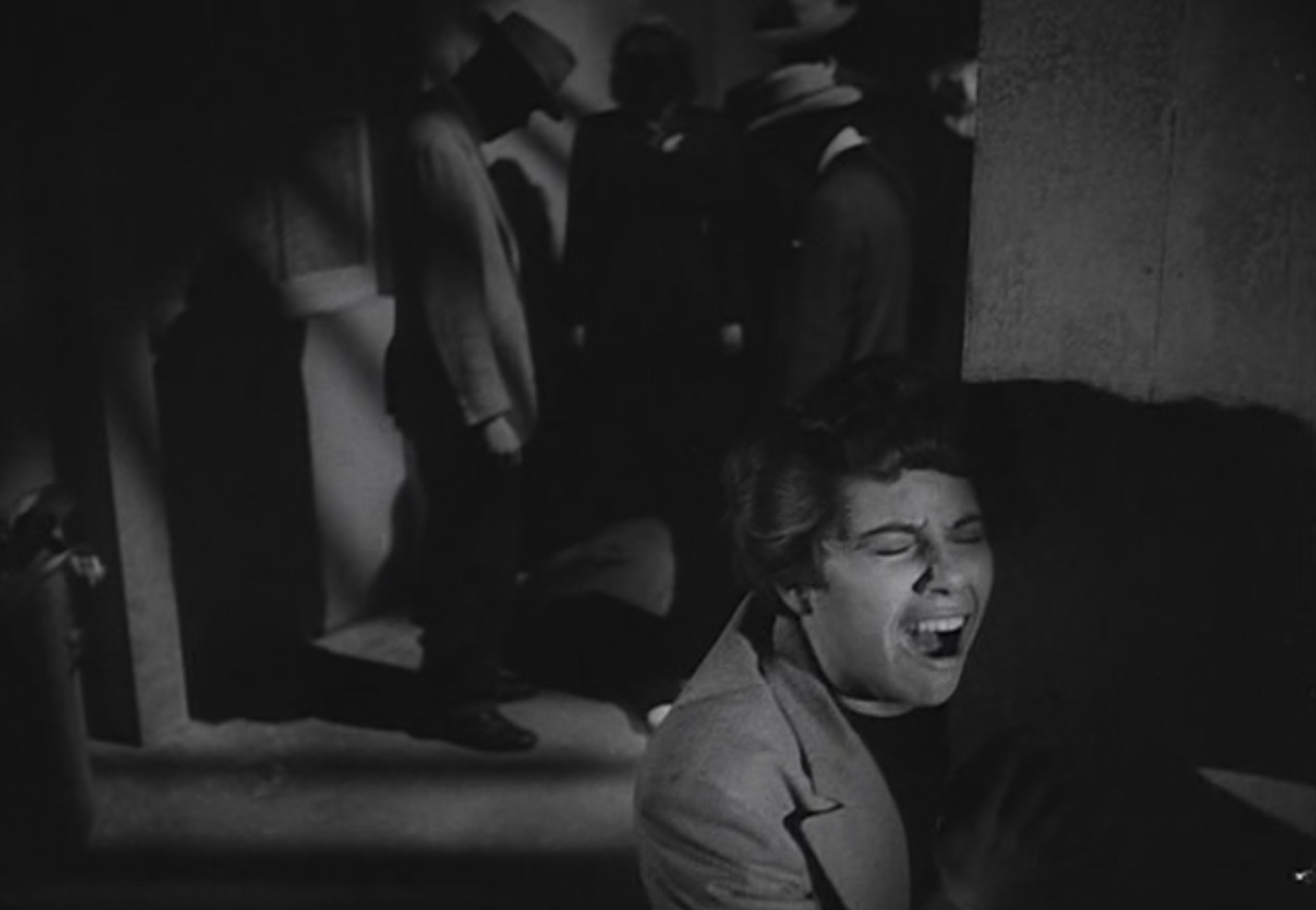 As for what it is about, I don't want to spoil too much, so I'll just stick to what IMDb has to say about it, which is:
This film, with no dialogue at all, follows a psychotic young woman's nightmarish experiences through one skid-row night.
That's close enough. Go watch it for some dark alleys, empty streets, creepy music, a lovely Jazz score by Shorty Rogers and His Giants, and some disturbing scenes and nightmares. Although I don't understand why this film would be [banned] I can certainly see it's rather disturbing especially for the time in which it came out. It's not your ordinary film, and I thought it felt a little like Orson Welles meets Dario Argento (Phenomena in particular).