Original title: The Dark Mirror
Rating: (4 / 5)
Year: 1946
Director: Robert Siodmak
Duration: 100 min.
Genres: Crime, Film Noir, Thriller
The Dark Mirror
A double dose of Olivia de Havilland. Not only does she play the lead, she also plays the other lead. Confused? No need to be. The Dark Mirror is the best identical twin story I know of. De Havilland plays twin sisters Ruth and Terry. One of them is a killer, but seeing as they look alike and cover for each other, it's going to be hard to tell which one did it. The only way to tell them apart seems to be through their necklaces, but even those can be switched…
Don't you remember me?
Sure, if you want me to.
Nonetheless a doctor Elliott, played by Lew Ayres (All Quiet on the Western Front), is having a crack at it. Through interviews, personality tests and the occasional date he is convinced he is going to be able to tell the two apart, eventually exposing the killer. One little problem, he falls in love with one of them. So did he fall for a killer femme fatale, or did he fall for the good sister – who by the way isn't all good because she's obstructing justice at the very least. This is one of the many film noirs by this director, and in this one he manages to keep you on the edge of your seat until the very end. Sisters Ruth and Terry often play in the same shot, but you can never really see any special editing going on like poor cut and pastes. It must have been pretty difficult to get this right back in those days.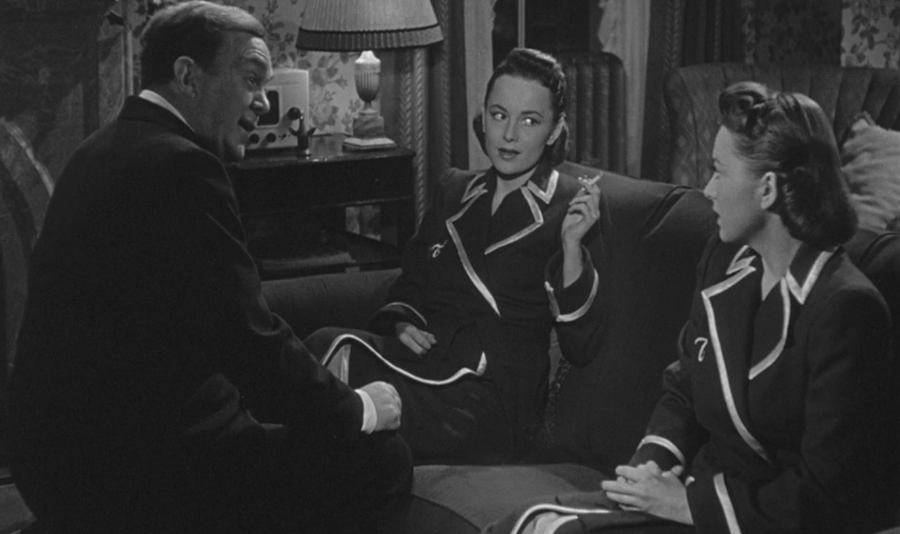 Director Robert Siodmak delivers another fine film with The Dark Mirror. I always find myself enjoying them more than the average IMDb watcher with the exception of The Killers – his smash hit also from 1946. The screenplay of this film is by Nunnally Johnson, who one might know for adapting several books to become film scripts. Some of them include John Steinbeck's The Grapes of Wrath, The Dirty Dozen (Robert Aldrich) and Fritz Lang's fantastic film noir The Woman in the Window. Now if you're looking for other twin stories you might want to check out The Parent Trap (1961 or 1998), Dead Ringer starring Bette Davis, or a more recent film I won't name because it would kind of spoil things, but if you must know click here. There aren't that many – unless I'm missing some – worth watching. I think the theme could use some further exploration. Until then. this noir gem will have to do.