The Adventures of Prince Achmed
It took us about a hundred years, but it seems that the film world is finally waking up to the fact that it may be a bit strange that there are almost no female directors. Salary discussions aside, for the first time in history the number of female film directors directing noteworthy films is finally on the rise. It has been for a while now, but we're getting to the point where even non-cinephiles can name two or three of them. That's still a pretty sad state of affairs, but at least the lists are getting longer. Up until the naughts, or zero's, most compilation lists go by decade to find maybe ten or twenty films in total, a staggering 1 to 2 per year. And if you thought that was sad, those same lists usually group the 1890's to the 1940's together because there just aren't enough otherwise. Directing has forever been a men's world. Women were employed in the film industry though, not as directors, but mainly as (screenplay) writers, even in the olden days.
Examples include Frances Marion, Joan Harrison and Fritz Lang's once-wife Thea Von Harbou who was a screenwriter for films such as Metropolis, Spione and Frau Im Mond. But aside from a few fluke attempts at direction, nothing much happened for women in the early (pre-WW2) days of cinema. The only name that might ring a bell these days is Leni Riefenstahl, although it probably isn't for her skill as film director. Together with Lois Weber and Dorothy Arzner she is probably the only one who directed more than one film that is worth mentioning. That doesn't sound very fair towards all the others, like Alice Guy, making an effort during that time, but it's the sad truth. One of the flukes is Lotte Reiniger, although to be fair she only made short stories aside from The Adventures of Prince Achmed. In 1926 though, she took it upon herself to write, animate and direct something that was (almost) unheard of up until then: a feature length animated film!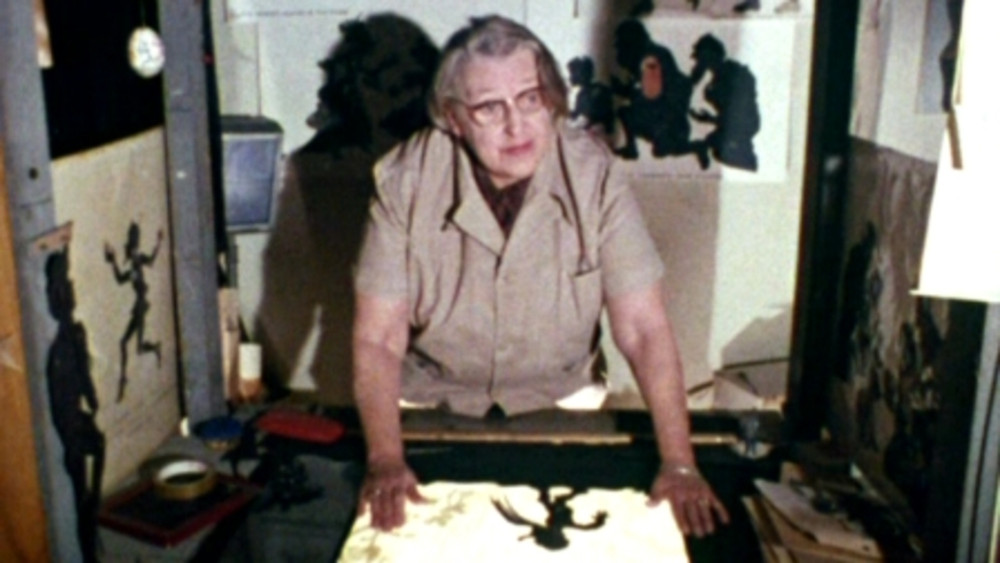 Almost, because according to this page at least two animated feature films are said to have existed before it, but both have been lost in time. So that makes The Adventures of Prince Achmed the oldest surviving animated feature film at least, made more than a decade before Disney's Snow White and the Seven Dwarfs. Funnily enough, I keep reading that the latter is the first animated film ever made. I guess that's mostly wishful thinking or being creative with the definition of animation. Talking about being creative, it was probably Lotte Reiniger who – en passant – also invented the technique now known as Silhouette Animation that was used in her film. It means that she used a white or light grey background with black figures and objects on top of it. Shining a light through the background (backlight) gave her the effect she wanted. After that, it was stop motion all the way, 81 minutes of it!
If you can spare a bit over 15 minutes and are interested in the way in which she made her films, check out this featurette from 1970 featuring an older Lotte Reiniger who herself shows and sometimes explains how she works. She does a much better job than me, plus it's fun to listen to her Genglish accent.
But back to the film itself. In short it is a screen adaptation of parts of Arabian Nights (1001 Nights). It – among others – involves Aladdin, a flying horse, the horny prince riding it and of course a beautiful princess. The prince, Achmed, is the main character of the story. He gets into all sorts of crazy adventures, some involving the princess. As you can see from the images in this post, the animation is obviously in black and white, and sometimes tinted in a certain colour. While compared to today's animated films there isn't much detail, do not forget that everything you see, every little frill had to be hand drawn or cut out. Looking at it like that, I would say there is a lot of detail in this film, and you can imagine the rest of it.
It's crazy to think that The Adventures of Prince Achmed was made in 1926. It must have been a lot of work putting it all together and making it into something that is also quite good. Because it's easy to think that the sole reason to watch this film is that it's the first of its kind. It distinguishes itself from other films such as The Great Train Robbery or The Jazz Singer though in my opinion. They too are considered to be firsts (narrative structure and synchronised sound respectively), but they are just not as good as this one. Be sure to check out The Adventures of Prince Achmed and see where it all started!