Original title: Dangerous Crossing
Rating: (3.5 / 5)
Year: 1953
Director: Joseph M. Newman
Duration: 75 min.
Genres: Drama, Mystery
Dangerous Crossing
Dangerous Crossing is a film based on the radio play 'Cabin B-13'. They made a bold move and changed it to cabin B-16 though, but that's not really important. Dangerous Crossing starts off innocently enough, like so many films from the era, with a young couple of newlyweds. They are introduced as John and funny little Ruth, but just Ruth will do. They are just about to go aboard a big cruise ship heading to Europe and especially Ruth seems very excited. Things are finally looking up again, we can hear her think and see her act, but we're not let in on the why just yet. After entering their cabin, B-16, John leaves to put some cash in the ship's vault for safe keeping. Ruth goes back up on deck to see the ship leave port. They arrange to meet 15 minutes later in the ship's bar. After some swell moments on deck, Ruth finds her way to the bar, but John is nowhere to be seen…
Wait what? Deja-vu much? Haven't I seen that before? Right, over here, So Long at the Fair it's called. What up, am I watching a remake on a ship? I'll give you the short and long answer to that right away. No, no it is not a remake. Whew, but it sure starts off the same way. Cabin B-16 appears to be unoccupied and Ruth can't find her husband. Nobody remembers seeing them together and nobody believes her when she says he did go on board with her. Evidence seems to pile up against her, and so it does seem to be SLatF all over again. Luckily there are like a gazillion things that could be going on, and not soon after we are let in on a little secret. John is alive and seems to still be on the ship, hiding. Do not trust anyone, he tells his wife over the phone. They are both in grave danger. Then the line goes dead.
Oh you mustn't let him get out of your sight. Husbands can get lost so easily. I know. – Kay Prentiss
Even though Dangerous Crossing tells a different story, I think it is fair to compare it to 1950's So Long at the Fair since so many elements are the same. I would personally rank the latter a bit higher than this one, because I find the delivery of the story to be a bit more interesting and better played out. What bothered me was sometimes hearing Ruth's thoughts spelling out exactly why she was doing something. Mr. director, we are not stupid, we get it without that. Also Ruth's hysteria is at times a bit silly. It seems that almost all American films present their women as emotional shipwrecks the minute something happens. What I did like a bit better though was the darker noirish atmosphere. The many scenes of the dark and empty ship at night and the foghorn constantly blowing gave it an eerie and mysterious vibe. For what is a B-film it all looks very slick. Especially when you consider that the whole thing was filmed in under three weeks with a budget of about half a million dollars. Imagine that these days…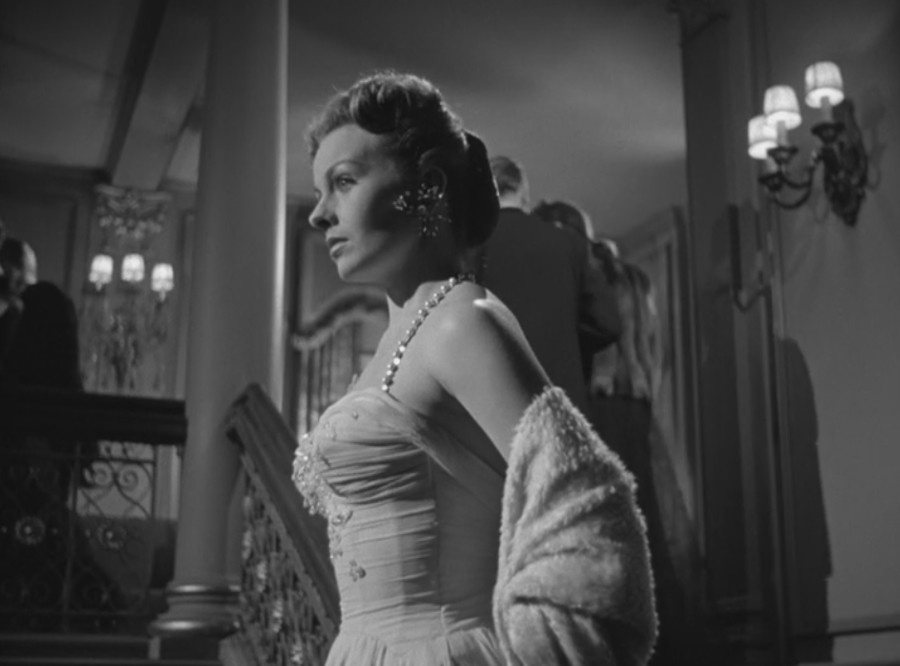 Despite a little too much hysteria, Jeanne Crain does deliver a solid performance as Ruth. Her dresses are gorgeous and without wanting to she seems to attract the ship's doctor. Because of that one might even go as far as to call this a film noir, but I think that's pushing it. The doctor – played by Michael Rennie – seems to take a liking to Ruth. But is that because he genuinely likes her, or because he can't be trusted? Exactly that is what drives this whole film. Who can Ruth trust? The doctor, the ship's captain, that woman called Kay that she met on deck, other members of the crew? Or nobody at all, just like her husband warned her. And who is that guy with the cane? Maybe it is all a figment of her imagination, or something else entirely? Or not. Anyway, this is still a film worth seeking out if you enjoy a little noir-y mystery at sea. By the way, do yourself a favour and stay clear of watching trailers, movie posters or DVD covers.
Similar to Dangerous Crossing in this subgenre are some of the following. I already mentioned So Long at the Fair (1950).