Come Back, Little Sheba
It's been quite a while since Sheba left, isn't it? I'm sure she'll come back soon. Come Back, Little Sheba is a heart wrenching story about loneliness. Sheba, a dog, went missing and isn't ever coming back. Yet the dog's owner Lola (Shirley Booth) keeps telling herself it'll be OK, and Sheba will be back any time now. That'd be something. But Sheba isn't just the missing dog. It is also symbolic for the joys of life, youth, beauty and all those other have beens that are never coming back. What are you left with, being a lonely unambitious house wife in the early 50's, when your husband is out drinking?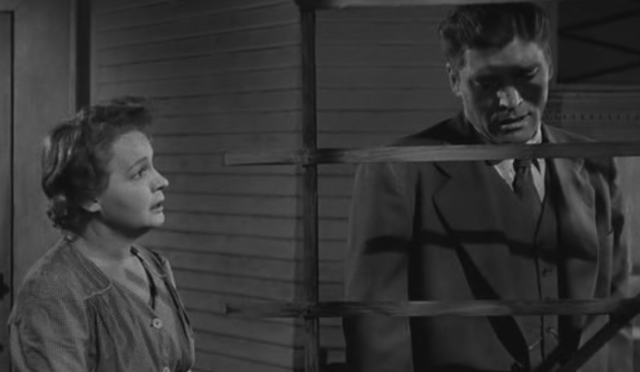 Lola is addicted to the radio as today's house wives are addicted to Candy Crush or Farmville. A long time ago, she married Doc (Burt Lancaster). Not out of love, but because he got her pregnant and he was doing the right thing. Unfortunately the baby was never born. It seems like unconsciously Lola is blaming herself for Doc's miserable mediocre life. Doc's way to deal with things was to get drunk. However, in present time he hasn't touched a drop in almost a year, and he is doing good work for AA. Then a young and pretty college girl, Marie, shows up at their doorstep. She is interested in renting the room Doc and Lola have up for rent.
Her youth and vitality cause Lola to put in a little more effort. But poor Doc is having a much more difficult time dealing with how Marie reminds him of when he was her age and what happened with Lola and him. We get to see what Lola went through when Doc was drinking, and it isn't pretty. I don't think I can put into words how well both Lancaster and especially Booth played their roles. Booth deservedly won an Oscar for her performance, and Lancaster showed that he could do much more than play wild adventurers or Crimson Pirates. In fact, it's been several months now since I've seen Come Back, Little Sheba, and I still find myself thinking about it occasionally.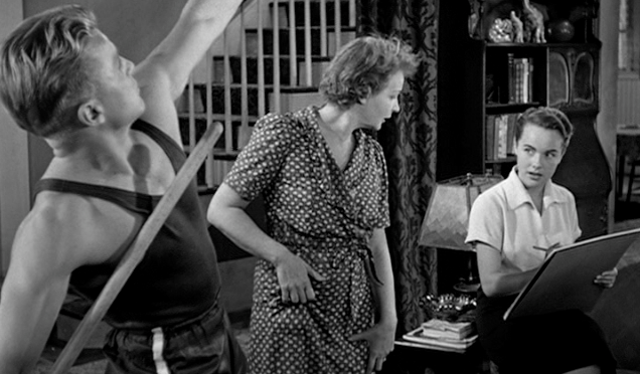 This film needs to be seen for its story, but even more so for its acting, especially Booth's. She just gets it all right and it feels so real. First, she's that annoying person always buzzing around your head when you really just want her to go away. But slowly you start to realise that she is just that sad and lonely. Everywhere I keep reading that this film does really well at depicting alcoholism problems within a marriage. While I don't know about that, I can say I have rarely seen acting this good. Even by today's standards, this film would've been much better than almost anything I can think of. The film does have its downsides. It is not easy to watch to, and I guess it's a bit dull at times, especially if you prefer films with a bit more action or a complex plot with many twists and turns. Come Back, Little Sheba is none of that. It is simple, pure and honest.