The Legend of 1900
I calls him Danny Boodmann T.D. Lemon Niiineeteeeenhundred! And so a young foundling gets his rather unique name, given to him by his adoptive father. Aboard a luxury cruise ship called The Virginian in the year 1900 a beautiful story is about to begin. The little boy, going by the name Nineteen hundred, is brought up without ever leaving the ship that brings travelers from Europe to the United States and back. His father is a worker on the ship. Unfortunately he has a fatal accident early in 1900's life. But I'm getting ahead of myself.

Many years later, though earlier in the film, a trumpeter called Max Tooney starts his story when he is selling his trumpet in a little music shop somewhere. Max plays one final tune on his trumpet, when the old shop owner recognises it and pulls out a damaged old record. Eager to hear about the composer of the song, the shop owner starts to listen to a grande and epic story of the legendary pianist of the ocean – the composer who never existed. In order to explain how this beautiful music was able to be made without anyone knowing about it – and to make for a nice film – the entire story has to be told. And so we go back to paragraph one when little 1900 was found, left behind on a big ship in a port somewhere.
In his childhood years 1900 lives as a stowaway, afraid to be taken off the ship by customs or the police. He has no official parents, no birth certificate or any other documents saying he exists. So he hides in the belly of the ship. But one day it turns out he is an amazingly gifted piano player. He ends up playing for whomever is on the ship, alone or with fellow musicians. One of these musicians – of course – is Max Tooney. He befriends 1900 in the six years he plays on the ship, so that's how he is able to tell the story about his life.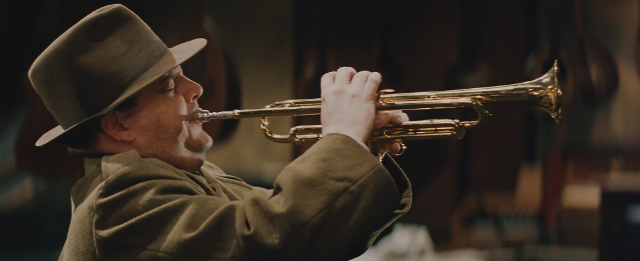 Tornatore's films always have a very unique atmosphere. A specific way of filming and colouring creates a somewhat surreal world in which his stories take place. It's exactly what is needed too. The story here is not just a series of flash backs – they are told from the memories of Max Tooney. And as so often happens with recollections, they may not be entirely accurate. I very much doubt it is possible to heat up piano snares just by playing the piano for a minute or two, but it sure makes for one hell of a tale. One similar to the one about Johnny and his fiddle.
Last but not least the music composed by the great Ennio Morricone. It may not be his most famous work or his best, but it does add to the magic of the story. The atmospheric music is quite nice, but the best thing is all the piano music played and Max's trumpet music and the music played by the orchestra on the ship.