Original title: Short Term 12
Rating: (4.5 / 5)
Year: 2013
Director: Destin Cretton
Duration: 96 min.
Genre: Drama
Fantastic indie film
Short Term 12 shows us that one does not need a multi-million dollar budget or a bunch of famous star actors to make a brilliant film. With a budget of around $1.000.000 it surpasses pretty much every film of the last couple of years in every aspect. The acting is great and the story is engaging without ever going too far. Actress Brie Larson steals the show, but all other actors deliver good performances also. For me it is incomprehensible that this film did not get any big film awards.

The unknown cast deserves more praise than it's getting. And one shouldn't forget the camerawork of starting director Cretton. The sometimes shaky filming is alternated with steady fluent movements. None of this ever gets annoying and often even adds to the feeling of imperfection that is one of the main themes of the film. Each character has its own problems and flaws. It is one of the things that make this film so believable and sincere.
Short Term 12
The name of the film actually refers to the name of a foster care facility for troubled teenagers. These kids end up there because their situation at home is unsafe, they are being neglected or because they had other kinds of problems that made the powers that be decide they couldn't live there any longer. Many are severely traumatised by these events. Some kids retreated into the private world in their heads, while others have anger issues or become violent.
In this facility Grace works as one of the counselors. She tries to help the children to the best of her capabilities, but she also faces some difficult decisions in her private life. About children, abortion, marriage and her own past. Her current boyfriend Mason also works at the facility. It creates a friendly atmosphere between the counselors. It helps when the rest of the film mostly shows the depressing lives of the different characters.
We start off with Mason telling a new counselor a story about one of his most embarrassing moments at the facility. He is interrupted by the escape of one of the children. Once a child leaves the facility grounds, the counselors have no authority over them anymore. This means that escapees must be stopped at all cost. Luckily they quickly stop this one from escaping. But the first switch from lighthearted storytelling to the sad reality has been made.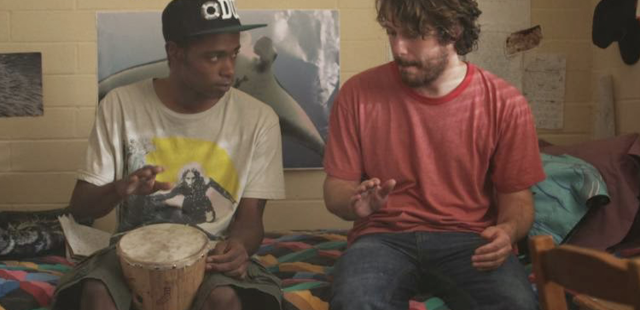 Throughout the film this happens more often. Using humour and moving scenes, a tough depressing reality is shown. One with which I hope none of us will ever have to deal, but one that most definitely exists. Through these various scenes the film maintains a certain integrity. It feels very realistic and it doesn't try to impose values or beliefs. The balance between scenes of happiness and sadness is perfect. It never gets (too) melodramatic or cheesy. Despite the imminent sense of someone going too far, there is always a little spark of hope.
Grace's struggle really begins when a new child, Jayden, arrives at the facility. Jayden has a dark secret which she eventually tells through a story of a shark and an octopus. Grace wants to help Jayden as she recognises a part of herself in her. Jayden shows you how these kids often are. Silent, telling lies, bursts of anger, rebellious, troubled. But also happy – like a normal child – when she gets a birthday cake or gets to listen to her favourite music.
As I mentioned before this is a great film that is not getting nearly enough praise and publicity. It deserves to be seen by a bigger crowd. I hope I managed to spark some interest as it will be well worth your time.