Original title: Flicka och Hyacinter
Rating: (4.5 / 5)
Year: 1950
Director: Hasse Ekman
Duration: 89 min.
Genres: Drama, Mystery
 Obscurity and Controversy
Talk about an unexpected but very welcome surprise. I was looking for some help in understanding what was being said in another film, but then Google decided I was going to do something else. For some reason I can't remember I came across this review of Girl With Hyacinths instead. After reading it and eventually finding what I was looking for, this film suddenly found itself at the top of my what-to-watch-next list. And I'm glad it did.
Looking at Girl With Hyacinths' IMDb page, one would have to conclude that this is not the most well known film out there. Having gathered 333 – soon to be 334 – votes since its release in 1950, that averages to about 5/year. Not very encouraging. I guess it could be due to the rather controversial topics that are covered, especially in those days. It all starts off by showing a beautiful young girl hanging herself. Suicide was probably already pushing it, but this film contains something else that was not allowed by the Hollywood code during those days. Luckily this is a Swedish film so the rules didn't apply. But it probably did stop it from being shown in the US.
Girl With Hyacinths
The film begins with an almost-too-dark-to-see first five odd minutes. I must admit I wasn't very enthusiastic at this point. In these five minutes a girl leaves some place, wanders the streets, almost jumps off a bridge but then hangs herself at home. After that, when she is found the next morning, she is identified as Dagmar Brink. Her neighbours Anders and Britt Wikner, who do not seem to know her, inherit her possessions. The man then gets fascinated by what could drive a girl like that towards suicide. He starts off a private investigation to find out. It's no Philip Marlowe, cigarette smoke and smooth jazz, but it's still my cue to get excited.
His search brings him to meet several of Dagmar's acquaintances, former lovers for the most part, who each tell a small part of a bigger story that spans over the past couple of years. As it turns out, none of them could give Dagmar what she was really looking for. As she herself puts it, she is a hopeless romantic who just wants perfection out of someone imperfect. Perhaps too naive to settle with something more realistic, she keeps getting disappointed after each failed relationship.
This film needs more attention
Looking back, I guess the men more or less stood for everything she didn't want. A bad father, a drunk, a self-absorbed ladies man, a distrustful soldier who – by today's standards – has some questionable ideas about the politics of those days. It is no surprise that, at the very end of the film, only Britt learns the exact reason behind Dagmar's suicide. Anders will be left with an explanation that works for him, but is not correct.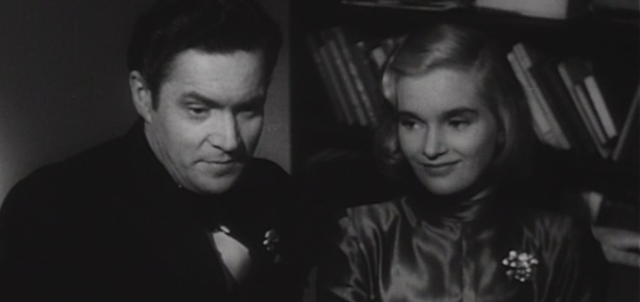 Girl With Hyacinths deserves more praise, but most of all more viewers. It tells about topics that are still very actual. Around this time of the year, in The Netherlands at least, WW2 is extremely actual. So are suicide and other topics. Even those just looking for a solid mystery story will find this to be a most enjoyable foreign film.