Original title: Possessed
Rating: (3.5 / 5)
Year: 1947
Director: Curtis Bernhardt
Duration: 108 min.
Genres: Film Noir, Drama
Possessed
Well, it's currently #NoirSummer on TCM, and they're offering a free online Film Noir course on Canvas. So it's time to watch myself a lot of grainy depressing black and white flicks and work my way through summer. With watching many noirs comes writing about them, too. In this case a film from the peak of the genre, 1947. Possessed doesn't stand out in terms of pure quality. It's good, sure, but there are many others that are considered better. What makes Possessed special and definitely worth watching are a phenomenal Joan Crawford, and a good Van Heflin in the role of Homme Fatale – a male version of the Femme Fatale that film noir is so well known for.
The film opens unlike any film I've seen. Filmed from a roof top somewhere downtown, a figure is seen moving down a desolate street. The figure isn't walking, but rather just moving forward like a zombie. As the camera slowly zooms in, we can see it is actually a woman. Zoom in some more and we see it is Joan Crawford (Louise), wearing no make up and looking like a wreck. A grand opening, but not what you'd expect from a super star. The woman walks up to some random people, asking them if they've seen David, or if they are David. Who this David is – or where he is – we don't know, but it is obvious that something is wrong. Usually this state of being indicates she witnessed something traumatic – a great deception, a crime or perhaps even a murder.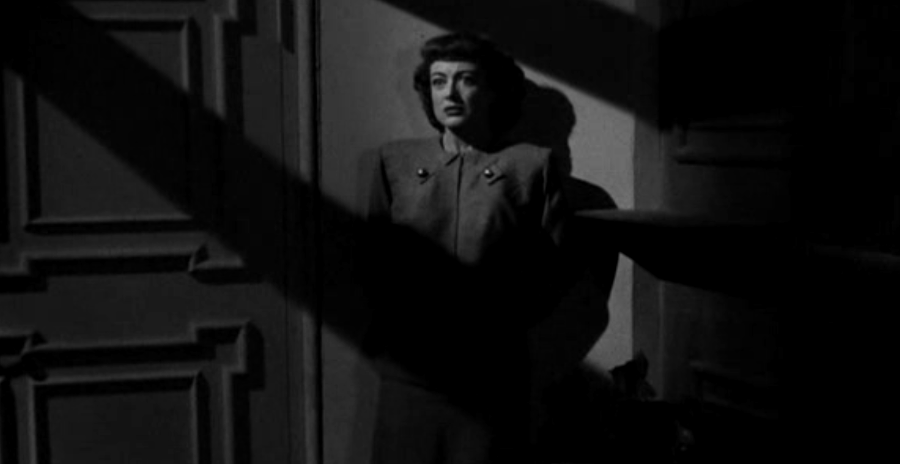 As she stumbles on, nobody seems to really care. Another classic film noir plot device in which the asphalt jungle is so big and impersonal it just doesn't care about the individuals residing within. Eventually after stumbling into a cafe, she is hospitalised. After a dose of very special medicine X, she is brought back into a state where she can think a little and talk. And so she starts telling who she is, what happened and how she ended up where she is. It all starts with David and herself. We now learn now that David is a mathematician who works designing buildings. He and Louise are in some sort of a relationship, but unfortunately she seems to love him more than he loves her – so it ends in tears. After that, Louise slowly begins to lose herself. She describes her way of living before meeting David as not being happy or unhappy, but as just being. And it's not something she wants to go back to.
Usually in film noir there is a femme fatale. A woman who may or may not be good, who may or may not be what she seems, but who always manages to catch the attention of a poor lost soul – a.k.a. the male protagonist. This film is special, in that the lead role is not for a man but for a woman. The role of femme, or rather homme fatale is played by a man, Van Heflin in this case. He plays it just like a woman would play her role. Often without even trying to, driving the protagonist crazy. He does this really well, but most of the credit for Possessed really goes to Crawford. Her performance is stellar, and some even say it's the best role she ever played. Either way, she's great as a woman who slowly seems to lose her mind over sweet David who doesn't seem to want her.