First things first
Last year I made a list (written in Dutch) of the 10 best relatively unknown or totally obscure films (to the masses) I had seen in that year. I liked doing a little write up about those films to give them some of the attention they deserve. Seeing as it is that time of the year again, I will go ahead and list another ten. The Film Top 10 – 2014 (part deux, or whatever). Just like last year, I have tried to select 10 films from a rather large list. This time, I am proud to say, I actually succeeded. While last year's top 10 kind of consisted of eleven films, this year I managed to select exactly ten.
What has been seen…
And just like every year, you inevitably end up seeing things you wish you could un-see. Or to somehow reclaim those last two hours of your life. Unfortunately such things are not possible just yet. Instead, I will now attempt to warn you not to go near the following if you can help it. Unless you're a sadist, these films are better to be left in a dusty box up in the attic, in your local super market's budget box, or buried somewhere on a New Mexico dump. Remember, what has been seen…
2013 – The Last Days on Mars (zombies on mars, really?)
2014 – The Monuments Men (WW2 was not hip and cool, George)
2014 – The Giver and Transcendence (both equally terrible)
1942 – Sherlock Holmes and The Voice of Terror (the first two in the series were great; this one, not so much)
2007 – Hotel Chevalier & The Darjeeling Limited (3 idiots on a train, ghee…)
Of course, this is just my opinion, so feel free to completely ignore it. But don't say I didn't warn you 😉
The films
The ordering of the list has little to nothing to do with any of the film's characteristics. Although it might. Either way, before starting I'll first put all the films in a handy little list. This way you can skip the ones you have seen, run away screaming, or shake your head in disagreement before having read through it all. Neat!
| | |
| --- | --- |
| A Heart in Winter: | (8.9 / 10) |
| Koyaanisqatsi: | (8.8 / 10) |
| A Tree Grows in Brooklyn: | (9.7 / 10) |
| Harakiri: | (9.0 / 10) |
| The Red Shoes: | (9.5 / 10) |
| Ugetsu Monogatari: | (9.4 / 10) |
| Lift to the Scaffold: | (9.1 / 10) |
| The Legend of 1900: | (8.9 / 10) |
| The Burmese Harp: | (8.9 / 10) |
| Babette's Feast: | (9.3 / 10) |
A Heart in Winter
This first film is a tragic story of a young and beautiful violin player (Emmanuelle Béart) and a reclusive man (Daniel Auteuil) in a violin shop. Camille is a talented player, but her music seems to lack a certain passion. Stéphane is a skilled craftsman who builds and repairs violins, but he seems to lack the ability to allow himself to have emotions. Camille feels attracted to Stéphane, but her passion and love is lost on him. It would seem like as long as Stéphane continues to be so insensitive, Camille's play will never get that extra bit of passion that she lacks.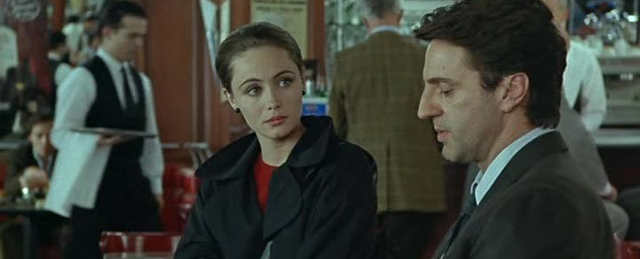 Béart and Auteuil have starred in films before. My favourite two actually, Jean de Florette and Manon des Sources. This one shows two human beings and contrasts in their personalities. There's no good or bad, just a lot of gray. Both characters have their strengths and flaws, just like real people would have. The music in this film is just beautiful. Apparently it is mostly (originally) by classic composer Maurice Ravel.
Koyaanisqatsi
Original title: Koyaanisqatsi
Trailer HD
Year: 1982
Director: Godfrey Reggio
Duration: 86 min.
Genres: Documentary, Music
Well what to say about this one. It is not a film and it is not a documentary really. It has no cast, it has no plot and it has not a single line of spoken text. The only thing to keep one entertained for an hour and a half are beautiful images and an amazing Phillip Glass soundtrack. That may not sound like a whole lot, but the 86 minutes will have passed in an instant. If you allow yourself to be taken on a journey that is. If not, this will just seem like a weird film thing that you'll turn off in an instant. Wait for a night when you're alone, turn off your cell phone, crank up the volume and enjoy.

The images start off with a bunch of beautiful nature shots. It shows various places on the planet, all untouched by humans. Pretty soon it shifts to human things. Construction sites, cities, buildings. It will also show rockets, explosions, implosions and sadness. The image of the road is one of many. It seems to compare the human race to an ant colony. Always so busy, but where are we headed? Anyway, that was my interpretation. As I said, the film has no plot so I guess what you take from it will be up to you.
A Tree Grows in Brooklyn
This moving story follows a young girl, Francie Nolan, and her family who live a life of poverty in early 1900's Brooklyn. Together with her younger brother Neeley she sells old junk for a few pennies. Her father Johnny is an alcoholic who can't seem to provide a steady income, but is always there for his children. Her mother Katie is always working to make ends meet. Katie's sister, aunt Sissy, is marrying yet another uncle Bill. Francie loves to read and enjoys school. Perhaps if she can go to a better school she will be the first Nolan to get a diploma. But to get to that fancy school, her dad must somehow get his act together.

That's pretty much what the film is about. It may not sound like much, but during the two hours you begin to connect with the family and start to care about what happens to them. As viewers we get to see important things like marriage, but also minor events such as cutting down a tree. I don't think I've ever seen a child lead role played so well as was done in this film (Although Carol Reed's The Fallen Idol isn't far behind). Director Elia Kazan later went off to direct the much more famous A Streetcar Named Desire, but in my opinion this one is way better. Way better? Yes, way better.
Harakiri
Original title: Seppuku
Trailer
Year: 1962
Director: Masaki Kobayashi
Duration: 133 min.
Genres: Drama, Action, History
An old samurai wishes to die an honourable death. He comes to one of the great houses in the region. He hopes for his wish to commit seppuku in their courtyard to be granted. If a samurai cannot fight, this is an alternative way to die honourably. The lord of the house tells a chilling tale about the previous samurai who came with the same request. It is peace time now, so many samurai are without work, and therefore money. They visit respectable houses with the request to die, in the hopes that instead of accepting they pay them to go away. Seppuku, or harakiri, is the act of suicide by gutting yourself and then having your head chopped off, so you can imagine the bloody mess it creates.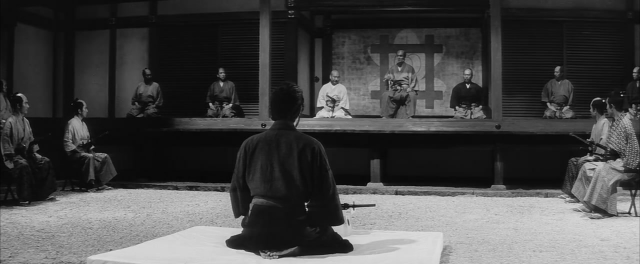 After the tale is told, the old samurai still insist on his initial request. His request is granted. The grueling tale was partly a test to see if he would really go through with it. However, once the ceremony starts, the samurai begins to tell a story of his own that will shake things up. It all starts with him requesting his head to be chopped off by one of the most respected swordsmen of the house, who is nowhere to be found.
The Red Shoes
Original title: The Red Shoes
Trailer HD
Year: 1948
Directors: Michael Powell, Emeric Pressburger
Duration: 128 min.
Genres: Drama, Music, Romance
In short, this is the story of a ballerina who will have to make a choice. Become one of the greatest ballerinas of her time, or be with the man she loves. Torn apart by the impending moment when she has to make the choice, she slowly loses control. On one side she has Boris Lermantov, leader of the ballet, almost forcing her to keep dancing. While on the other side is her lover and husband, Julian Craster, who begs her to come with him to live together some place quiet.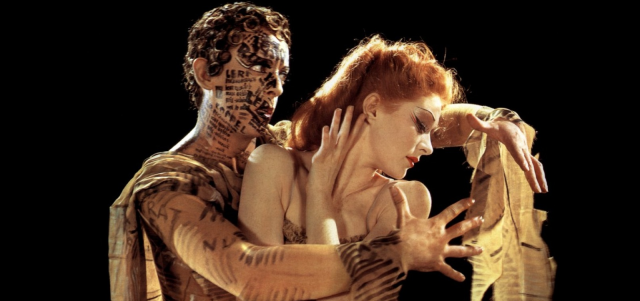 It is interesting to note that this film is based on the Hans Christian Andersen tale with the same name. This film however is even darker than the fairy tale by Andersen. The similarities consist of there being a pair of red shoes that seem to make its wearer want to dance forever. I usually don't like films of this kind, but I must say this one really blew me away. The gorgeous Moira Shearer (image) is absolutely fantastic in her role as prima ballerina, and is definitely my highlight of the film. Together with Black Narcissus, which I wrote about last year, they make for two of the best full colour films from the B&W era that I know of.
Ugetsu Monogatari
Original title: Ugetsu Monogatari
Trailer
Year: 1953
Director: Kenji Mizoguchi
Duration: 96 min.
Genres: Drama, Fantasy, Mystery
It wasn't easy deciding between this one and The Life of Oharu. Both are Mizoguchi films and both would have been on this list if they hadn't been. I chose this one, because it is the better of the two by a tiny notch. Ugetsu is his most famous work, probably because it is most accessible to western audiences. Mizoguchi's films tend to be quite heavy on the soul, so to speak, so one kind of has to get ready to put one on. Most films are dramas that revolve around prostitutes or families. This one isn't much different, except it also has some fantasy and ghost story elements blended in with the regular drama.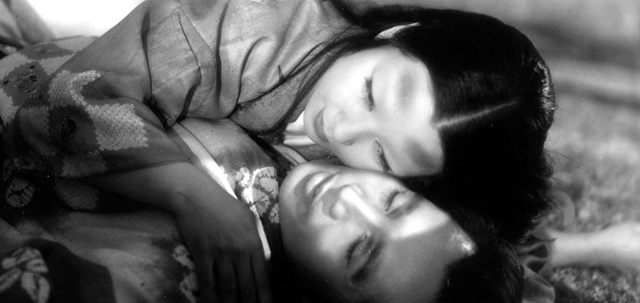 The story is set in sixteenth century Japan. It is about two families of which the husbands are also brothers. They seem to have a pretty decent and normal life, but greed intervenes. The men are going off to get rich, leaving their wives behind to take care of themselves and their children. The men each choose their own path to ultimate wealth. One uses his skills to sell beautiful pottery, and he ends up with an even more beautiful woman. The other one wants to become a samurai, but only manages to become one through dubious means. While both men are off chasing a better life, the women are left completely unprotected…
Lift to the Scaffold
Or Elevator to the Gallows, I never can tell what the proper name of this film is. I suppose it depends on whether you prefer British or American English. Ah who cares, it is a French film anyway. And a thrilling one at that. The story starts with Julien Tavernier, a business man in love with his boss's ladyfriend, Florence Carala. He has been plotting to kill his boss so he can live happily ever after with his girl. He plans and executes the murder so it looks like a suicide. All goes well, but when he gets down to his car he sees he forgot to pull down the rope he used to climb up to his boss's office. That might give him away. Big whoops!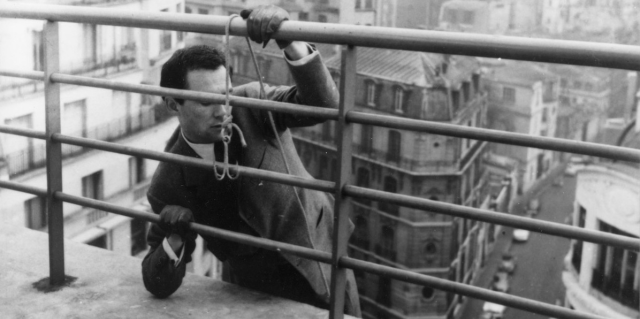 While in the lift back up to retrieve the rope, the building's janitor kills the power and locks up for the night. Julien will spend the bigger part of the film locked inside the lift, while outside all hell breaks loose. He left his car running, and now two kids took it for a joy ride, killing some people in the process. They happen to pass the place where Florence is waiting for Julien to pick her up. Instead, the car passes and she mistakes the kids for Julien and another girl. Aside from the exciting story, this film's music is by Miles Davis, adding greatly to a wonderful noir atmosphere. Be sure to watch the trailer to get a good impression.
The Legend of 1900
It is day one of the year 1900. On a cruise ship transporting people from Europe to the United States, a baby is found. He has no name and his parents are nowhere to be found. A black worker aboard the ship takes him under his wing. The young boy is named Danny Boodmann (after his black 'father') T.D. Lemon (after a name on the box he was found in) Nineteen Hundred (after the year in which he was born), or '1900' in short. He turns out to be an extremely gifted piano player. Officially he does not exist to anyone. He happily lives his life aboard the cruise ship called the Virginian.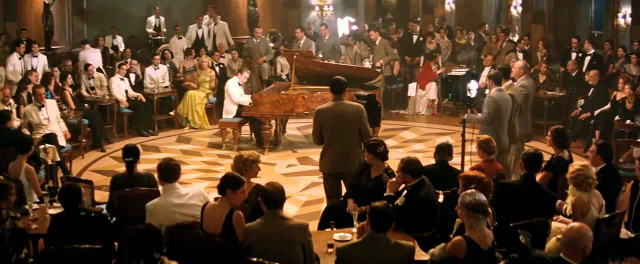 The tale of '1900' is told by a friend of his, Max Tooney. He is a trumpeter who spent quite a few years on board the Virginian. He is now selling his trumpet at a music shop in town. As a final goodbye, he plays a little tune that is recognised by the store owner. Instead of selling his trumpet, Max ends up telling about the origin of the tune. But to do that, he must tell the entire tale of '1900'. The music to this film is composed by the great Ennio Morricone. And if you liked this film, be sure to check out The Best Offer, by the same director and composer.
The Burmese Harp
With the war almost coming to an end, a company of Japanese soldiers is followed. These soldiers spend much of their time singing together as a choir. One man, Mizushima, has a harp which he plays while the others sing. At the end of the war, their company is imprisoned and Mizushima is asked to travel to another company to tell them the war is lost and they should surrender. He does what he is asked, but fails to convince the soldiers. A short bombardment follows, killing most. Mizushima is badly injured, but is taken care of by a monk. The things Mizushima saw, piles of dead bodies left to rot, injured people, the shattered land, it made him want to become a monk so he could take care of the dead and bury them with honour.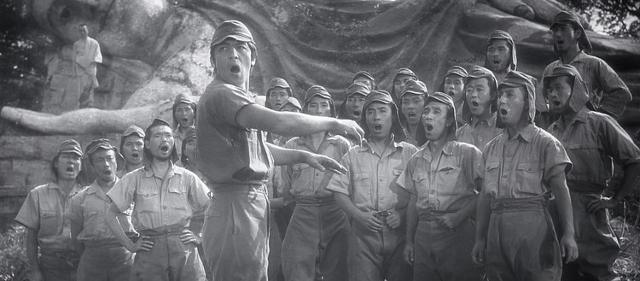 He decides he can not possibly return to his company in the prison camp, so one day he steals the priest's outfit and starts traveling the land, doing the work he feels he must do. This is a very powerful anti-war film with some great music. Nothing much happens, so do not expect a lot of fighting, excitement or any of those things. This is also a reflective film, leaving you to contemplate the horrors of war. A little flaw perhaps is that it feels a little weird hearing all those soldiers sing choir music all the time. But luckily that feeling passes pretty early on.
Babette's Feast
Two young sisters live with their father in 19th century rural Denmark. They live in some sort of religious community of which their father is the leader. Both sisters meet a man early on in their lives, but neither decides to leave the village. One falls for an army officer, the other for a French opera singer. On both occasions, the father disapproves and it seems for that reason the sisters decide not to leave. Many years later, after their father has died, a French refugee comes to the village.

The refugee, Babette, says the opera singer recommended the village. She offers her services as maid and cook. For almost two decades she serves the sisters without complaint and even without asking for a wage. She always cooks local food. One day, Babette comes into a large sum of money. The sisters are afraid it means she will leave. But first Babette insists on cooking a proper French banquet for the whole village in honour of the 100th birthday of the sister's father. This causes quite a stir in the entire village.