Original title: Murder, My Sweet
Rating: (4.5 / 5)
Year: 1944
Director: Edward Dmytryk
Duration: 95 min.
Genres: Film Noir, Mystery
Murder, My Sweet
Murder, My Sweet is one of quite a few well known good Philip Marlowe detective stories out there. Others you may know are The Big Sleep and The Long Goodbye. Lesser known are Lady in the Lake and The Brasher Doubloon. In 1986 the BBC made a six-episode long mini series called The Singing Detective. There have also been a few remakes. Murder, My Sweet was remade in the 70's under the original name of the novel, Farewell My Lovely, starring Robert Mitchum. Marlowe was originally created by pulp fiction writer Raymond Chandler in 1939 in a story called The Big Sleep, but characters like Marlowe had appeared throughout the 20's and 30's in numerous novels and short stories, not solely written by Chandler. A lot of Chandlers Marlowe stories were filmed in the mid 80's in a two-season long TV show called Philip Marlowe, Private Eye. So Mr. Marlowe has been played by some great actors like Bogart and Mitchum, but I personally liked Dick Powell's version in Murder, My Sweet the best of them all. I think in part that is due to the confusing plot of The Big Sleep, but it's also because it is acted very well by the entire cast. Even by Dick Powell, a man who until then mostly starred in comedies and musicals, and who was now playing the hardest boiled of hard boiled detectives.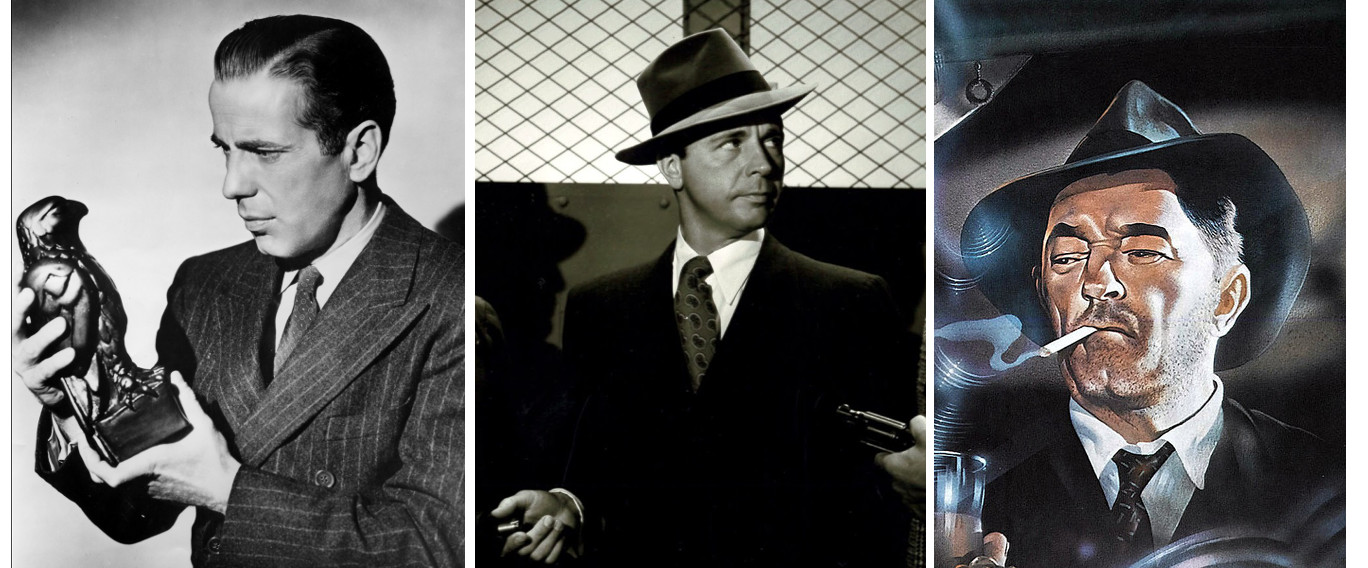 "I caught the blackjack right behind my ear. A black pool opened up at my feet. I dived in. It had no bottom. I felt pretty good – like an amputated leg." – Philip Marlowe
Because that's Philips Marlowe, a hard boiled detective, like his colleague Sam Spade (The Maltese Falcon and The Maltese Falcon – ok and Satan Met a Lady too, sort of). Marlowe is the kind of tough guy with a certain sense of righteousness and a drive to get to the bottom of things that keeps him going even if it could cost him his life. The kind of guy who walks in a bar, makes some clever wisecracks, puts on his tough face and orders a glass of milk. It is that which makes him a lot different from most of the other famous detectives from novels written up to the 1940's. Detectives like Charlie Chan, Sherlock Holmes and Hercule Poirot to name a few. All of those had their novels turned into films too. About 30 Charlie Chan films exist, dozens with Sherlock Holmes and quite a few Poirot ones too. They were often portrayed by the same actor over many films, but to my knowledge no one ever played Marlowe twice. For Powell it did mark a new part in his career, as he played in a couple more films noir after Murder, My Sweet. Most notable are Cornered, Pitfall and Cry Danger. Especially Cornered feels like it heavily relies on Powell's experiences as Marlowe – it has him play a character with a heavy resemblance to the Marlowe type of guy. I guess you could call Cornered a sort of Murder, My Sweet Light, but I'm not sure that would be doing justice to that film, as it's a pretty decent one in its own right.
But back to Murder, My Sweet. It's a relatively fast paced story and it can be a little confusing at times, but it's well worth a few dives into the black pool to find out what's going on. And of course we're being told just that, and as is the case in so many films noir we start with a little introduction followed by a flashback. This one is particularly interesting though, as we see Marlowe – seemingly blindfolded – while being interrogated by the police about some murder. Sure is a strange way to interrogate a man though. The room is pitch black with only a desk light and small bits of light on the faces of the police detectives and Marlowe. Things start when he is contacted by a Moose Malloy to track down his redheaded lady friend who seems to have gone missing. At the same time he is working a case of a missing jade necklace. Soon enough, a dark web of intrigue, murder, deception and possibly love is spun, trapping poor Marlowe. Who did what, who is who, and why does that black pool keep opening up at his feet?
"She was a charming middle-aged lady with a face like a bucket of mud." – Philip Marlowe
There is also the question of who is the femme fatale. In Murder, My Sweet we have two women contending over that title for almost the entire duration of the film. If Dick Powell's Marlowe didn't do it for you, then surely Claire Trevor and Anne Shirley steal the show as Helen and Ann Grayle. Their performances are stellar, and among the best in noir history. Maybe that's partly the fanboy in me speaking – I absolutely love this film – but I'm not alone in saying so. While sharing their last name, Helen and Ann are not in fact related. Helen married an old but rich Mr. Grayle, who already had daughter Ann from a previous marriage. It's safe to say Ann hates Helen's guts for tricking his father into a marriage and living off his wealth. Also, in case you hadn't noticed, this film has to be one of the most quotable ones out there, so why not wrap this case up with another little gem.
"'Okay Marlowe,' I said to myself. 'You're a tough guy. You've been sapped twice, choked, beaten silly with a gun, shot in the arm until you're crazy as a couple of waltzing mice. Now let's see you do something really tough – like putting your pants on.'" – Philip Marlowe