Original title: Fury
Rating: (4 / 5)
Year: 1936
Director: Fury
Duration: 92 min.
Genres: Crime, Film Noir
Fury
As a huge Fritz Lang fan I really ought to write more about his films. So far I only covered the incredible silent epic Die Nibelungen, so it's about time for another one. Another one of my personal favourites and an often overlooked gem hidden in between his best period up to M, and his 40's and 50's film noir era. In fact, this one is often considered a film noir too and it's also Lang's first film on US soil after fleeing Europe because of the Nazi threat. It is also a courtroom drama, although it takes a little while to get there. I have seen 13 Fritz Lang films so far, and after Die Nibelungen, M and Metropolis this is my personal favourite of his so far. That makes it my #4, and I'm still very enthusiastic. This man must be a genius!
Fury is typical in its noir-ness in that it starts off with an average Joe – literally – minding his own business. However events far beyond his control suddenly place him in a prison cell, blamed for a murder he did not commit. At one point an angry mob sets out to where Joe is held, planning to lynch the poor bastard. The prison catches fire and Joe is presumed dead. But we soon learn that he managed to escape and is alive and well. Well, not well, he is rather intent on taking revenge on every single member of the mob who set out to lynch him. He wants them all to be tried for lynching resulting in death, which was – and luckily still is – quite illegal.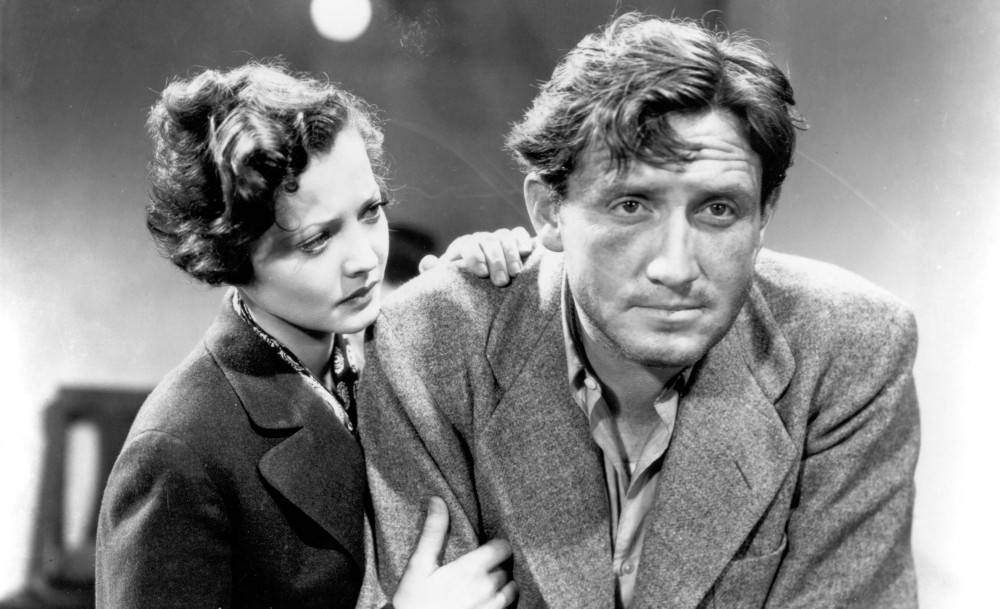 In all this, his poor girlfriend Katherine – what's in a name – played by Sylvia Sidney, isn't having a very good time either. First her BF is sentenced to death for something he didn't do, then he's burned to a crisp slash lynched, and to top it all off he then turns out not to be dead, but to be a cynical jackass out for revenge. Perhaps she can forgive him, making him see that what he's doing isn't going to do him any good, and it'll only hurt many people and a whole community. Or not. Hey, it's still film noir, you never know for sure.
Spencer Tracy gives a wonderful performance as the likable Joe at first, and the tormented vengeful Joe in the latter part of the film. His face shows his suffering so well. Sidney did well too, but to be fair her role in the film is substantially smaller than Tracy's. However it didn't stop Fritz Lang from casting her as lead lady in his next film You Only Live Once, also a very good film noir. And yes, I guess that makes him the inventor of the rocket countdown (Frau Im Mond) and the inventor of an internet meme. Is there anything this guy couldn't do?